Alibaba Falls as Sales Volume Slows, Adding to China Concern
by and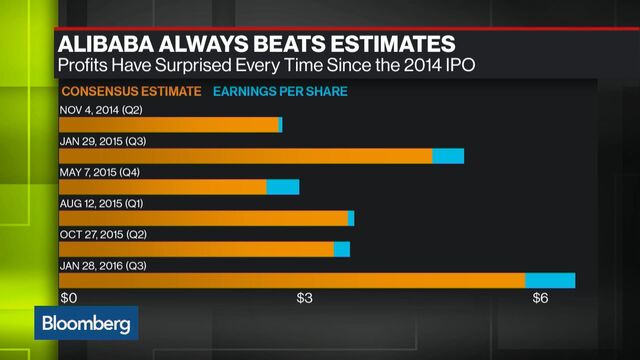 Alibaba Group Holding Ltd. shares fell after the Chinese online retailer reported flagging growth in sales on its marketplaces, adding to concerns about the country's economic slowdown.
The shares dropped 3.8 percent to $66.92 in New York, bringing their loss for the year to 18 percent.
While gross merchandise volume on Alibaba's Chinese retail marketplaces rose 22 percent to 964 billion yuan ($147 billion) in the three months ended December 31, that's less than the 28 percent increase in the prior quarter. 

Executives said warmer weather in November and December pressured gross merchandise volume growth, but "given the macro environment and the concerns that investors have around China and the Chinese economy slowing, I don't think investors are in any mood for any excuse," said James Cordwell, an analyst with Atlantic Equities.
Revenue and earnings per share beat analysts' estimates in the fourth quarter because Alibaba was able to sell more ads to its merchants and better capitalize on its Tmall and Taobao platforms, he said. What's troubling is the decelerated growth in GMV, most worryingly at Tmall, where it was 37 percent this quarter, compared with 56 percent growth the previous period, Cordwell said. Plus, the boost in sales from advertising came from Alibaba catching up on monetizing its mobile platforms, a phenomenon that will end, he said.
"At that point, advertising growth will be more linked to GMV growth," he said. "That's why the market is less willing to give them credit for what was clearly a strong quarter for revenue and EPS."

Alibaba's slowing GMV growth doesn't bode well for China, said Gil Luria, an analyst at Wedbush Securities Inc. As the country shifts investment to services and consumption from manufacturing, investors are paying attention to Chinese consumers' behavior, he said. Alibaba has said that consumption is healthy and growing, he said.
"But the reality is, from these numbers we see Chinese consumer spending is slowing as well," Luria said. "That's not a good sign for the Chinese economy."
Before it's here, it's on the Bloomberg Terminal.
LEARN MORE