Soros Gets China Rebuttal as State Media Says Bears Are Deluded
Bloomberg News
Xinhua says Soros's China comments show "partial blindness"

Won't fend off speculators as fundamentals weak, Rabobank says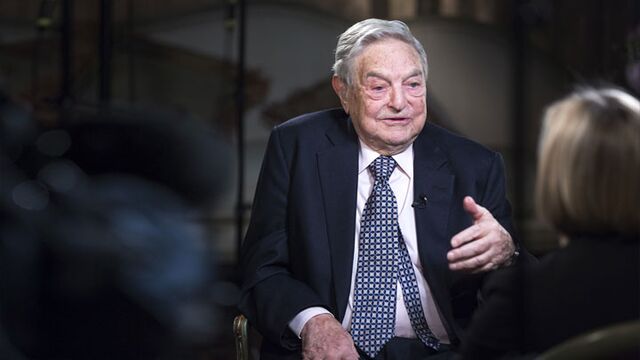 China's leading state media are becoming more vociferous in their support for the yuan, having been fired up in the past week by George Soros's observation that the economy is headed for a hard landing.
Yuan short sellers "haven't done their homework," the state-run Xinhua News Agency said in an English-language article on Wednesday, while a People's Daily commentary in Chinese declared that such trades will undoubtedly fail. The two editorials, in addition to at least three other articles published by Xinhua since the weekend, all argue the economy is growing at a decent pace.
China is resorting to stepped-up rhetoric to help offset depreciation expectations after the yuan started the new year with the biggest weekly plunge since a devaluation in August. The cost of steadying the exchange rate has shot up as a slowing economy, equity market turmoil, declining foreign-exchange reserves and surging capital outflows add to the pessimism.
"They can write as many op-eds as they want, but two plus two doesn't make five," said Michael Every, head of financial markets research at Rabobank Group in Hong Kong, whose year-end 7.53 forecast for the yuan against the dollar is the most bearish in a Bloomberg survey of 41 analysts. "What they're saying won't put off speculators. The fundamentals are screaming and sending a clear picture that if economic growth doesn't start picking up, the exchange rate will weaken."

Soros said in a Bloomberg Television interview from the World Economic Forum in Davos that he's been betting against Asian currencies because a hard landing in China is "practically unavoidable." Xinhua retorted by saying that his observations are the result of "partial blindness."
The billionaire investor rose to fame as the money manager who broke the Bank of England in 1992, netting a profit of $1 billion with a wager that the U.K. would be forced to devalue the pound. Malaysian Prime Minister Mahathir Mohamad called him a "moron" during the 1997 Asian financial crisis, saying he was out to wreck the region's economies.
"Given how people know Soros and what he did in 1992 and during the 1997-1998 Asian crisis, he's too important to ignore, so China felt that they had to counter any negative comments," said Tommy Xie, a Singapore-based economist at Oversea-Chinese Banking Corp., who was cited by Xinhua as saying that the People's Bank of China has become more predictable. "They have to reassure local savers and show them a willingness that the government is looking after them and their savings."
China's foreign-exchange reserves plunged by a record $513 billion last year to $3.33 trillion as the nation sold the greenback to prop up the yuan. Bloomberg Intelligence estimates that about $1 trillion of capital left the nation in 2015, underscoring the scale of the battle facing policy makers as they struggle to boost an economy growing at the slowest pace since 1990.
Yuan Declines
The yuan, which is set to enter the International Monetary Fund's reserves basket this October, is poised for a third monthly decline, dropping 1.3 percent so far in January to 6.5786 a dollar as of 5:41 p.m. in Shanghai. The currency traded in Hong Kong's offshore market has fallen 6 percent since the August devaluation.
China's most recent efforts to talk up the yuan follow similar efforts earlier this year. Bets against the currency will fail and calls for a large depreciation are "ridiculous," Han Jun, deputy director of China's office of the central leading group for financial and economic affairs, said on Jan. 11.
Xinhua might actually be more convincing than the PBOC, said Zhou Hao, an economist at Commerzbank AG in Singapore.
"We always say the PBOC lacks independence, but if you look at Xinhua, you can say this is from the Chinese government, which is the actual policy maker in China," Zhou said. "Its track record shows that they normally have relatively powerful instruments to maintain stability -- at least for a while."
Short-Sellers
China's central bank has told some banks in Hong Kong to suspend offshore yuan lending to curb short selling and tighten liquidity, said people with knowledge of the matter. This comes after Xinhua said on Saturday that yuan speculators entering short positions are expected to "suffer huge losses" as policy makers will take measures to stabilize the currency.
The yuan's relative stability over the past week has convinced Royal Bank of Canada and Commerzbank, whose end-2016 forecasts for the yuan are 6.95 and 6.9, respectively, to predict that the exchange rate will be steady until around March 31 before dropping again. Both say it makes more sense to short assets that are harmed by the Chinese slowdown, rather than the yuan itself.
"At the end of the day, the exchange rate should be driven by macroeconomic fundamentals," said Sue Trinh, the Hong Kong-based head of Asia foreign-exchange strategy at RBC. "The end game is these capital controls are inconsistent with China's goal to internationalize the yuan. You've got to make a choice."
— With assistance by Justina Lee, Tian Chen, and Saijel Kishan
Before it's here, it's on the Bloomberg Terminal.
LEARN MORE