World Bank Predicts Iron Ore Will Be Worst Metal Performer
by
Global seaborne demand nearing peak as China shifts, bank says

Prices may hold below $50 through 2019 as forecasts reduced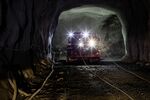 Iron ore prices are likely to post the biggest loss among metals this year as low-cost supply continues to outstrip consumption, according to the World Bank, which cut its forecasts through 2020.
Demand is nearing its peak and prices will average $42 a metric ton in 2016, a drop of 25 percent from $55.80 last year, the Washington-based lender said in its quarterly outlook. In comparison, nickel may fall 16 percent and copper 9 percent, it said. In October, the bank had forecast 2016 iron ore at $59.50.
Iron ore has collapsed to less than a quarter of its 2011 peak as the slowdown in China restricts demand from the biggest user, spurring a glut. The global market is set to see a further jump in supply, with the largest miners including Brazil's Vale SA and Rio Tinto Group and BHP Billiton Ltd. in Australia increasing output to build market share.
"Seaborne iron ore demand may be nearing a peak due to China's transition to a less-metal intensive economy," the bank said in the report on Tuesday. "New low-cost iron ore capacity continues to come online in Australia and Brazil, and is forcing closures of higher-cost mines in China and elsewhere."
Miners Drop
Ore with 62 percent content delivered to Qingdao gained 3.3 percent to $42.43 a dry ton on Wednesday after bottoming at $38.30 on Dec. 11, a record in daily prices by Metal Bulletin Ltd. dating back to May 2009. Miners' shares declined Wednesday as Rio fell 1.3 percent in London, while BHP slid 3.5 percent.
The World Bank cut the 2017 estimate 28 percent to $44.10 a ton, and predicted that prices will remain below $50 through 2019 before rising to $51 at the end of the decade. Risks to the forecasts include a further economic slowdown in China and extra supply spurred by cheaper production costs and weakening producers' currencies.
"The top suppliers continue to churn out new production, while China's iron ore demand is contracting," said Helen Lau, a Hong Kong-based analyst at Argonaut Securities (Asia) Ltd., adding that the lender's forecasts for ore to stay below $50 are in line with her estimates. "Closures are more than offset by new additions from global suppliers."
Before it's here, it's on the Bloomberg Terminal.
LEARN MORE