VW Scandal Prompts EU Drive for Greater Enforcement Powers
by
Plan to revamp regulatory system foresees possible EU fines

European Commission proposal may be resisted by governments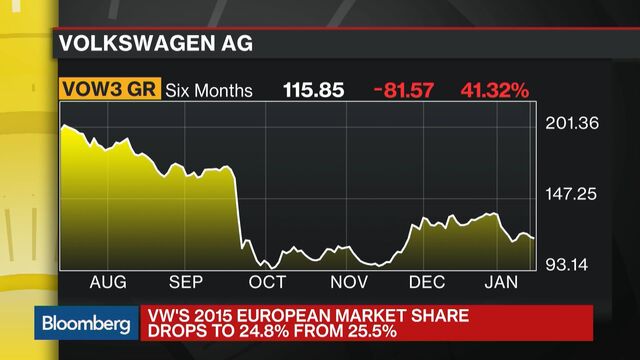 European Union regulators sought greater authority over the approval of car models in response to Volkswagen AG's emissions-test deception, risking a clash with EU governments.
The European Commission, the EU's regulatory arm, asked for the power to fine automakers up to 30,000 euros ($32,676) per faulty car as part of a plan for more centralized market oversight and greater independence of vehicle-testing organizations. The proposal would also allow the commission to order recalls and -- in a head-on attempt to uncover cheating technologies of the kind used by Germany-based VW -- oblige vehicle manufacturers to disclose software protocols.
Along with a separate plan to gauge cars' smog-causing pollution on roads rather than only in laboratories, the initiative presented on Wednesday marks the most far-reaching EU reaction to VW's admission in September that it fitted diesel engines with software to cheat U.S. checks on nitrogen-oxide discharges. The proposal on authorizing vehicle models would make the commission more like the U.S. Environmental Protection Agency and will need the approval of EU governments and the European Parliament, a process that can take at least a year.
"We need to tighten the rules but also to ensure they are effectively observed," Jyrki Katainen, a commission vice president, told reporters in Brussels. "It is essential to restore a level playing field and fair competition in the market."
EU-Wide Recall
VW's cheating, which the U.S. uncovered and led Germany to order an EU-wide recall of 8.5 million Volkswagen vehicles, has left policy makers in Europe scrambling to patch up regulatory holes that threaten a "clean-diesel" strategy dating to the 1990s. The issue is politically thorny in Europe because more than half the cars in the region are powered by diesel -- which causes more urban pollution than does gasoline while having less global-warming impact -- and because many member states have struggled to meet clean-air goals meant to reduce human sicknesses and premature deaths.
"Diesel is losing its advantage and, in a way, you can say we have been backing the wrong horse," said Bas Eickhout, a Dutch member of the 28-nation EU Parliament. He predicted the new draft law would face resistance by national governments and receive broad support in the 751-seat Parliament -- a situation that could prolong the whole decision-making process.
"It boils down to giving away national sovereignty to Brussels," Eickhout said.
While the fate of Wednesday's proposal will be determined during months or even years of negotiations among EU lawmakers, it may influence an imminent EU verdict on the plan for real-driving-emission tests. The EU Parliament is set for an up-or-down vote next week on the planned testing system, which was approved by member states on Oct. 28 and would begin in September 2017.
NOx Emissions
Because the testing regime would let real-world NOx emissions exceed permissible discharges by as much as 110 percent until January 2020 and then allow a 50 percent permanent overshoot of the actual EU limit, the Parliament's environment committee is recommending that the full assembly reject the plan as too lax. The commission's push to strengthen the EU system for approving vehicle models could provide political cover to backers in the Parliament of the governmental accord on real-driving-emission tests.
While the initiative on Wednesday stops short of seeking a European authority for approving vehicle models, it aims to address weaknesses in the current system that is based on the mutual recognition across the EU of decisions by individual member states. The new legislation would replace rules enshrined in a 2007 EU law.
The European Consumer Organisation hailed the proposal, calling it "a big step in the right direction" in an e-mailed statement.
"It is crucial that the cozy relationship between car makers, national authorities and testing services is broken up," said Monique Goyens, director general of the Brussels-based organization, also known after its acronym in French as BEUC. "Without radical change to the approval system of passenger cars in Europe, the next car-emission scandal is bound to happen."
The draft law, beyond giving the commission the power to order recalls and impose penalties, would allow it to arrange post-approval testing of cars. The proposal would also prohibit auto producers from paying for lab tests directly by requiring industry contributions to national pots from which testing would be funded. In addition, it would empower individual EU countries to recall vehicles approved elsewhere in the bloc should environmental or safety concerns arise.
"We will have a good, tight system for checking the cars," EU Industry Commissioner Elzbieta Bienkowska told reporters.
Before it's here, it's on the Bloomberg Terminal.
LEARN MORE