Vietnam Communist Party Chief Trong Re-Elected to Second Term
by and
Election of party chief expected after brief challenge by PM

Trong and other leaders likely to maintain present policies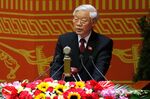 Vietnam's Communist Party re-elected General Secretary Nguyen Phu Trong to the position for a second term after he won a behind-the-scenes battle with outgoing Prime Minister Nguyen Tan Dung.
Trong , 71, and a new slate of leaders will lead the country until 2020, according to party officials who asked not to be identified as the meeting is private. Trong garnered support from most of the party's central committee, which picks the general secretary, according to the officials.
Trong and other leaders are expected to largely continue the economic and foreign policies of the present government, said Le Hong Hiep, visiting fellow at the Institute of Southeast Asian Studies in Singapore. Still, the party secretary will probably set a cautious course when it comes to institutional changes and reforming state-owned companies, he said.
"The general perception is that Mr. Trong is a conservative politician," Hiep said. "He is the party boss and will maintain the party rule."
Trong is expected to govern alongside Deputy Prime Minister Nguyen Xuan Phuc, who was nominated this week for prime minister, with Minister of Public Security Tran Dai Quang nominated to be the next president.
Dung is reaching the end of his maximum two terms as premier, with the National Assembly expected to rubber-stamp the nominations in May or June.
The party also elected 19 members to its Politburo, including Phuc, State Bank of Vietnam Governor Nguyen Van Binh and Transport Minister Dinh La Thang.
Vietnam's economy is forecast to expand 6.7 percent this year, the same pace as in 2015, according to Bloomberg surveys.
Before it's here, it's on the Bloomberg Terminal.
LEARN MORE