Uber-Style Yacht Site May Abandon Italy as Startup Funds Scarce
by and
Privately-funded H-Farm is Italy's biggest venture incubator

Renzi's government seeking to boost funding for startups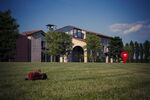 H-Farm's idyllic startup campus looking out from a hilltop toward Venice has everything its 500 plus entrepreneurs need to thrive. Except capital.
Michelangelo Ravagnan runs his Uber-style website for yacht captains, Antlos, from the hub but he's reluctantly preparing to join the exodus of Italy's most promising businesses as he seeks funds to expand the company.
"We'd like to keep a presence on H-Farm, but it looks as if we may have to move," Ravagnan, a 31-year-old former skipper, said in an interview.
While Italy's biggest startup incubator has managed to replicate the trendy modern architecture and new-age business philosophies more commonly found in Silicon Valley, it has struggled to raise money. With just 17.4 million euros ($19 million) of private capital invested in H-Farm companies over the past decade, the hub's most promising ventures often have to look, and then move, overseas to obtain funding.
Ravagnan himself says the U.S. and U.K. funds that could supply the 3 million euros he needs to take Antlos to the next level will want him to shift his headquarters so they can get involved in the day-to-day running of the firm.
"Investors want to help you with management, human resources and commercial partners," Ravagnan said. "We'd have to move to be close."
Renzi's Ambitions
The departure of Antlos would put another dent in Prime Minister Matteo Renzi's efforts to foster a startup culture as he seeks to accelerate Italy's emergence from a record-long recession. Renzi's administration is upgrading broadband networks, cutting back on red tape and trying to spur investment by both the public and private sectors.
Renzi's government and the European Commission agreed on a plan to help Italian banks offload bad debt late on Tuesday, in a deal aimed at helping to spur lending to private businesses among others.

Riccardo Donadon, the former Benetton executive who founded H-Farm in 2005, picked the spot overlooking the Venice lagoon partly because the local region has one of the highest concentrations of entrepreneurs in Italy. The campus has some 550 would-be entrepreneurs housed in large box-like huts of wood and glass. Slogans on the office walls quote former Apple Inc. Chairman Steve Jobs and trumpet values such as "developing beautiful minds."
"We have no shortage of innovators, but the funding for them is a problem," said Donadon, who has provided H-Farm's investments so far himself, along with his partner Maurizio Rossi and Renzo Rosso, chairman of fashion label Diesel SpA.
Entrepreneurship in Italy has traditionally been the business of small, family-owned firms while hi-tech startups in particular have long been plagued by a shortage of venture capital funds. According to the industry association AIFI, there are just five funds focused on venture capital in Italy, the same number as in 2010.
Expensive Funding
With so few venture capitalists competing to provide funding, the terms they offer can be expensive for entrepreneurs, according to Ugo Parodi Giusino, chief executive officer of Mosaicoon SpA, an online platform for video advertisers like Walt Disney Co., Unilever NV and Mercedes-Benz AG.
Set up from a beach town near the Sicilian capital Palermo, Mosaicoon has raised 3 million euros from two Italian funds and established offices in Rome, Milan, London and Madrid. Parodi Giusino plans to seek foreign investors for his next funding round.
"The money supply problem penalizes the entrepreneur," said Parodi Giusino. "You are subjected to conditions which are not market conditions."
Between 2012 and 2014, investments in seeds and startups in Italy totaled 260 million euros -- far behind France's 1.7 billion euros and Germany's 2 billion euros, according to AIFI. U.S. venture funds pumped $48.3 billion into companies in 2014 alone.
"Venture capital is still very new in Italy," said Pietro Brezza, managing partner at Connect Ventures, a London-based fund that has investments in Berlin, Barcelona and Amsterdam. But not in his Italian homeland.
"I would love to invest in Italy but the Internet startups there haven't hit on what the market needs, and there's a lack of ambition," he said.
Government Measures
To address the problem, the government is working on creating "digital neighborhoods" -- areas in cities dedicated to hi-tech startups -- and forging ahead with plans for a state-owned broadband network.
It's also encouraged the use of "mini-bonds," which allow small and medium-sized companies to issue debt. Fiscal incentives aim to help Italian firms grow and a new business plan commits state lender Cassa Depositi e Prestiti SpA to reinforce a fund for venture capital.
Italy's public administration needs to be "simpler, more pro-active and more business-friendly," Fabrizio Pagani, head of Finance Minister Pier Carlo Padoan's office, said in an interview. "We're also encouraging Italian investors, including pension funds and insurers, to invest in Italian firms as a whole."
It's still not enough for Andrea Rangone, director of the Digital Innovation Observatory at Milan Polytechnic.
"If we want to channel the resources of institutions like big pension funds toward venture capital funds, we should force them to do so as some European countries have done, with specific quotas," he said.
Before it's here, it's on the Bloomberg Terminal.
LEARN MORE