Taiwan's Ma Ignores U.S. Rebuke in Visit to Contested Island
by and
U.S. says South China Sea trip is `extremely unhelpful'

Ma reiterates Taiwan's claims to South China Sea territory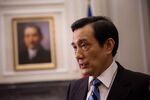 President Ma Ying-jeou ignored a rebuke from Taiwan's closest ally the U.S. and visited an island in the contested South China Sea, reiterating claims to the disputed waterway.
Ma said Thursday that Taiping and the surrounding waters constituted an inherent part of Taiwan's territory and that his trip was intended to prevent it from being legally downgraded. The president waited until the final months of his eight-year tenure to visit the island, which Taiwan has occupied continuously since 1956. In May, he'll hand power to Tsai Ing-wen, whose Democratic Progressive Party won a landslide election earlier this month over Ma's Kuomintang.
Taiping, which is also known as Itu Aba, is the largest naturally formed landmass in the Spratly archipelago, where the U.S. has been asserting free-navigation rights amid decades-old territorial disputes between China and its neighbors. The Philippines has taken China to an international tribunal to clarify the legal status of the Spratlys features, which could limit the territorial rights of China, Taiwan and other claimants.
"The ROC enjoys all rights over these islands and their surrounding waters in accordance with international law," Ma, using Taiwan's official name, the Republic of China, said in a speech at the island. "This is indisputable. To resolve disputes in the South China Sea, the ROC government will work to safeguard sovereignty, shelve disputes, pursue peace and reciprocity, and promote joint development."
Taiping is home to more than 100 people, most of them working for the coast guard.
Taiwan has a 1,200-meter runway there and recently completed a wharf capable of handling 3,000-ton frigates.
Overlapping Claims
While China and Taiwan split in 1949, they both claim more than 80 percent of the South China Sea via the same dashed line on a map published by the Republic of China in 1947. The Nationalist government fled to Taiwan during their civil war with Communist forces and neither side has clarified the meaning of the boundary. Besides the Philippines, the claims are also disputed by Brunei, Malaysia, and Vietnam.
"We remind all parties concerned of our shared responsibility to refrain from actions that can increase tension in the South China Sea," Philippine Foreign Affairs spokesman Charles Jose said by mobile-phone message Thursday.
While the Philippines hasn't asked the tribunal to rule specifically on Taiping, the country contends the land mass doesn't qualify as an island because it has no fresh water and isn't self sufficient. Under the United Nations Convention on the Law of the Sea, such "rocks" generate only 12-nautical-mile territorial zones and not the 200-nautical-mile exclusive economic zones due islands.
Goats, Chickens
"Taiping Island is categorically not a rock, but an island," Ma said during his visit. The president said one well produced water comparable to that of Evian in France and "tastes as good as mineral water sold in stores." He cited the presence of six dogs, 12 goats, 180 chickens and 500 coconut trees as evidence the island can support life.
Ma reiterated his proposal made last May for countries to shelve their disputes and promote joint exploration and development of resources. His initiative was ignored by other countries and Taiwan hasn't been included in code-of-conduct talks with the Association of Southeast Asian Nations.
"We are disappointed that President Ma Ying-jeou plans to travel to Taiping Island," Sonia Urbom, a spokeswoman for the American Institute in Taiwan, the U.S.'s de facto embassy, said in an e-mail Wednesday. "Such an action is extremely unhelpful and does not contribute to the peaceful resolution of disputes in the South China Sea."
Ma's visit comes a day after U.S. Secretary of State John Kerry visited Beijing and urged all claimants to avoid escalating tensions. Ma said in a news conference after the trip that Taiwan and the U.S. were in general agreement on issues concerning the South China Sea.
Singapore Meeting
Taiwan and China have shown some support for each other's positions: Taiwan in November rejected the Permanent Court of Arbitration's ruling to hear the Philippines' case against China's claims. "Chinese people on both sides of the Taiwan Strait share the responsibility to protect the ancestral property of the Chinese nation," Foreign Ministry spokeswoman Hua Chunying said in response to a question about Ma's visit at a briefing in Beijing on Thursday.
Ma met Chinese President Xi Jinping in Singapore in November, the first encounter by leaders since 1945. In those talks, they underlined the "one China" concept that holds that both are part of the same country, even though they're governed separately. Kerry said in Beijing Wednesday that the U.S. also remains committed to that principle.
Tsai said in a statement Thursday that she supported Taiwan's sovereignty claims over some islands in the South China Sea. She said the disputes should be solved according to international law, citing the UNCLOS. Tsai added she supported the freedom of navigation and seeks a peaceful resolution to the disputes.
"She is differentiating her view from that of Presidents Ma and Xi, and putting herself more in accord with what I think is a regional consensus," said William Stanton, a former U.S. diplomat and director of the Center for Asia Policy at the National Tsing Hua University in Taiwan. Ma's visit seems "a bit of a provocative gesture: 'Look at me -- I can claim that I went and replanted the flag of the ROC on this island.'"
Before it's here, it's on the Bloomberg Terminal.
LEARN MORE