Toyota's Daihatsu Buyout May Widen Global Lead Over Volkswagen
by and
Automaker considers acquiring rest of 51%-owned affiliate

Cash-rich Toyota playing offense as scandal distracts VW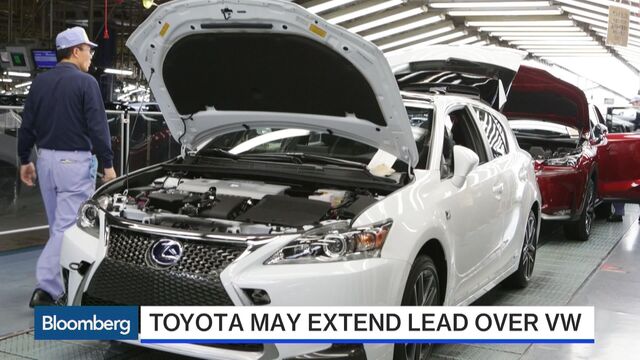 Toyota Motor Corp. is staying on the offensive after besting Volkswagen AG for bragging rights as the world's biggest automaker. Now, it's weighing a deal that might widen its lead, especially in Southeast Asia.
In buying the rest of its 51 percent-owned Daihatsu Motor Co. unit, a move Toyota confirmed Wednesday that it's considering, the automaker would gain full control of a company that's a sales leader for Japanese minicars and compact vehicles in Indonesia and Malaysia. Daihatsu said it's cooperating with Toyota in buyout discussions and its shares surged by the most since 1999.
Toyota continues to bound from strength to strength and has grabbed the industry's sales crown for the fourth straight year. It was also the only automaker to sell more than 10 million vehicles, with Volkswagen falling back amid the diesel-emissions scandal that has tainted its image with consumers and regulators. The potential Daihatsu purchase points to another acquisition option at Toyota's disposal: It has an almost identical stake in truck maker Hino Motors Ltd.
"Daihatsu needed support," Koji Endo, an analyst at Advanced Research Japan, said by phone. "It could not make business in China, the Indonesian market is not doing as well as expected, especially for the last two years, and their domestic minicar business is in harsh competition with Suzuki."

Daihatsu rose 4.9 percent as of 1:50 p.m. in Tokyo trading Thursday after climbing 16 percent on Wednesday, its biggest one-day gain since November 1999. Toyota extended gains a second day after confirming Wednesday it was considering a deal first reported by the Nikkei newspaper.
At Daihatsu's current market value, the portion of the company Toyota doesn't already own is worth about 380 billion yen ($3.2 billion). The deal would give Toyota full say over a company that competes with Suzuki Motor Corp. in Japan's minicar segment, which has expanded even as the overall domestic auto market has shrunk.
The Nikkei reported separately Wednesday that Toyota had begun talks with Suzuki to form an alliance and better compete in emerging markets including India, without citing a source. Toyota and Suzuki denied the Nikkei report in filings with the Tokyo exchange.
Toyota already includes Daihatsu in its global sales tally. Although the automaker is a force in Japan's minicar segment and in Indonesia and Malaysia, it struggled last year. Sales in the country fell 14 percent, the result of a price war with Suzuki for sales leadership in the fiscal year ended in March 2015.
Daihatsu sales also have been slumping in Indonesia, with deliveries dropping 10 percent through the first half of its fiscal year. Owning all of Daihatsu could allow for Toyota to better navigate these challenges, said Matt Stover, a Boston-based analyst at Susquehanna International Group.
'More Latitude'
"There are certain things that you can't get at when it's an independent company versus when it's something that you totally own," Stover said by phone. "There are some duplicate expenses you can get rid of and you have a lot more latitude to pursue your strategy."
Global sales for Toyota, including Hino and Daihatsu, slipped 0.8 percent to 10.15 million vehicles last year, the company said Wednesday in a statement. Volkswagen earlier this month reported a 2 percent drop to 9.9 million, while General Motors Co.'s deliveries rose 0.2 percent to 9.8 million.
"Toyota's hegemony will probably not be challenged for the next few years after the big setback for VW," said Zhou Jincheng, a Nagoya-based analyst at researcher Fourin Inc. "The gap will only get wider and wider because VW will take time to adjust its strategies for markets such as the U.S. and Europe."
Toyota first tied up with Daihatsu in 1967 and has owned its majority stake since 1998. Daihatsu started making Toyota-branded minicars in 2011 and also builds vehicles for its parent in Indonesia. The company was the top-selling automaker in Malaysia for nine straight years through 2014.
Daihatsu traces its beginnings to March 1907, when two academics and a group of businessmen set up a company in Osaka, Japan's second-largest city, to produce internal combustion engines. The company changed its name to Daihatsu Motor in December 1951.
Before it's here, it's on the Bloomberg Terminal.
LEARN MORE