Five Things Everyone Will Be Talking About Today
by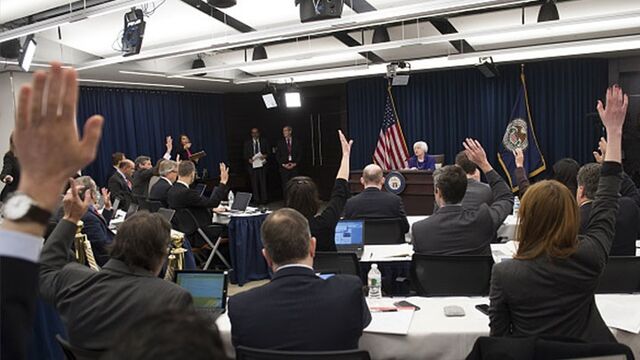 Seesaw markets have Asian stocks up and European stocks down today. Meanwhile oil is lower and everyone's waiting for the Fed decision. Here are some of the things people in markets are talking about today. 
Seesaw markets
The MSCI Asia Pacific Index closed higher with Japanese stocks leading the gains as the Topix added 3 percent. The Europe Stoxx 600 slipped 0.5 percent by 10:55 a.m. London time and U.S. futures were pointing to a lower open.
Oil drops
Oil erased yesterday's gain, with West Texas Intermediate for March delivery at $30.32, down $1.12 at 11:06 a.m. London time. The collapse in oil prices has U.S. oil explorers looking set to report $14 billion in losses for 2015. Prices at the pump are now lower in Houston than in Abu Dhabi for the first time since 2008.
Fed decision
It's Fed decision day and there is no doubt amongst the 104 analysts surveyed by Bloomberg - 100 percent of them predict no change to benchmark U.S. interest rates. With the decision a foregone conclusion, the language in the statement - there is no press conference today - will be examined for any hints of the rate path. Janet Yellen may push back against market expectations that currently point to a 30 percent chance of no more rate rises this year.
Apple results
"We're seeing extreme conditions unlike anything we've experienced," said Apple Inc.'s Tim Cook in a conference call following the company reported its most profitable quarter in its history. Apple stock is down 4 percent in the futures market at $96.00 a share as investors digest the forecast for declining sales - the first since 2003.
Bad banks
Italy has reached a bad bank deal with Europe to help lenders offload bad debt in an agreement designed to avoid EU state aid rules. Banca Monte dei Paschi di Siena SpA, the bank with the highest exposure to bad loans compared with tangible equity, gained as much as 7.3 percent and was up 3.6 percent to 72.8 eurocents at 11:20 a.m. London time. Shares in the bank traded as high as €88 before the financial crisis. In the U.K., Royal Bank of Scotland Group Plc was down 3 percent after it announced a 3.6 billion-pound ($5.2 billion) hit to the value of its assets and set aside more money to cover past misconduct. 
What we've been reading
This is what's caught our eye over the last 24 hours.
Want to receive this post, and more, into your inbox every morning? Sign up here
Before it's here, it's on the Bloomberg Terminal.
LEARN MORE