SoftBank's Pepper Robots Ready for Business With Apps Next Month
by and
The humanoid robot is already used by more than 500 companies

Store opens Feb. 22 and will offer customer-tracking software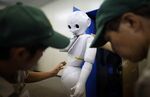 SoftBank Group Corp. will open an application store for its Pepper robots next month, letting business customers download software to try and put the humanoid machines to work.
QuickTake Artificial Intelligence
From Feb. 22, clients including Nissan Motor Co., Mizuho Financial Group Inc. and Nestle SA will be able to download apps that will help them communicate with customers and track their behavior, Fumihide Tomizawa, chief executive officer of SoftBank Robotics, said at a briefing in Tokyo on Wednesday. The Japanese wireless carrier didn't specify the number or specific types of apps that will be made available.
The 1,000 Pepper units SoftBank makes available each month have sold out since its launch in June. The company is targeting businesses, trying to get to an installed base it estimates would have to be in the hundreds of thousands to support a community of developers modeled on Apple Inc.'s. The challenge is to draw on artificial intelligence and machine-learning technologies to make Pepper useful beyond its initial novelty.
"This year will be year zero for smart robots in the business space," Ken Miyauchi, who heads SoftBank's mobile operations in Japan, said at the briefing.
To Work
The robot costs 198,000 yen ($1,670) and comes with an optional 14,800 yen monthly service plan giving users access to cloud-based voice-recognition and the app store. Businesses can rent it for 55,000 yen a month.
Featuring more than 20 motors and highly articulated arms, Pepper is capable of human-like body language. Its shoulders heave when in standby mode, imitating sleep. But it's not designed for menial tasks. Instead, SoftBank founder Masayoshi Son is betting the robot's friendly physical appearance will spur adoption of cloud services and attract app developers.
The robot already greets customers at Nestle shops in Japan and promotes financial products at Mizuho branches. SoftBank said it plans to introduce the humanoid into 2,000 of its own stores by the end of next month and will open a shop in March staffed entirely by Peppers.
Before it's here, it's on the Bloomberg Terminal.
LEARN MORE