PBOC Said to Ask China Banks to Suspend Offshore Yuan Loans
Bloomberg News
Guidance from central bank said to have been issued on Jan. 11

BOC Hong Kong among banks told to curb loans unless necessary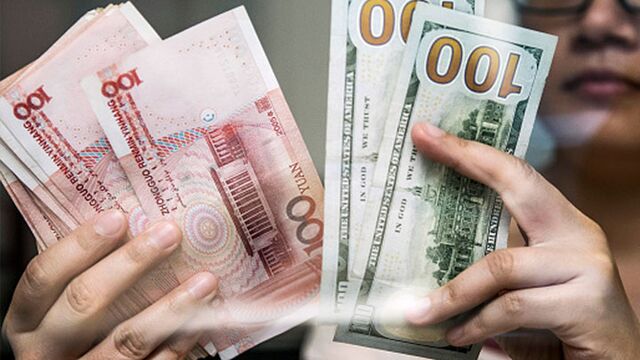 China's central bank gave guidance two weeks ago to some Chinese banks in Hong Kong to suspend offshore yuan lending to curb short selling and tighten liquidity, said people with knowledge of the matter.
QuickTake The People's Currency
The People's Bank of China told banks including BOC Hong Kong (Holdings) Ltd. and Industrial & Commercial Bank of China (Asia) on Jan. 11 to curb lending unless necessary, said the people, who asked not to be identified as the instructions weren't public. The central bank hasn't issued new guidance since then, they said.
PBOC also asked some Chinese banks and companies to collect information about short-selling orders in the offshore yuan market from Jan. 1, after noticing volatility at the end of last year, said two of the people.
The Chinese government has been seeking to bolster the yuan as capital outflows rose and bets increased that the yuan will depreciate with weakening economic growth. Yuan speculators entering short positions are expected to "suffer huge losses" as policy makers will take measures to stabilize the currency, the official Xinhua News Agency said in a commentary on Saturday.
Speculative bets against the yuan "is one of the few ways for foreign investors to express their bearishness about China economy," said Tommy Ong, managing director of treasury & markets at DBS Bank Ltd. in Hong Kong. "The offshore market is a little bit more pessimistic about possible intervention than onshore."

Offshore yuan prices were little changed Wednesday at 6.6121 against the dollar at 2:45 p.m. Hong Kong, with the currency down 0.7 percent for the year. It advanced 1.5 percent on Jan. 11 amid speculation of PBOC intervention. The central bank bought offshore yuan that day, the people said.
PBOC, BOC Hong Kong and ICBC Asia didn't immediately respond to queries from Bloomberg.
Recent efforts to stabilize the currency, which had fallen as much as 3 percent this year, include imposing reserve requirements on yuan deposits held on the mainland at offshore participant banks.
Suspensions on settling offshore clients' yuan transactions in the onshore market were also imposed last month by the PBOC, people familiar with the matter have said, a clampdown that came as a growing offshore-onshore spread made it profitable to buy the currency in Hong Kong and sell it in Shanghai.
DBS Group Holdings Ltd. and Standard Chartered Plc were among banks suspended from some foreign-exchange business in China, people with knowledge of the matter said.
Policy makers have confronted volatility in the currency market since an August devaluation in the yuan and a move last month to link its value to a basket of other currencies, rather than the dollar.
— With assistance by Heng Xie, Molly Wei, Jeanny Yu, and Steven Yang
Before it's here, it's on the Bloomberg Terminal.
LEARN MORE