Modi's Roads Tsar Seeks Record $10 Billion for India Growth Push
By and
Targets $73 billion of road projects with local, foreign funds

Minister says looking for hedging solutions for foreign loans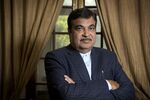 India's transport minister is seeking as much as a record 700 billion rupees ($10.3 billion) in government spending to boost road construction and spur economic growth.
In addition to a more than 50 percent increase in budgetary allocations in the fiscal year starting April, Nitin Gadkari said in an interview that his ministry is also looking to borrow overseas. The overall target is 5 trillion rupees of road projects over the next three years, he said.
Prime Minister Narendra Modihas prioritized speedier construction of highways, railways and other infrastructure since taking power in May 2014. Such public expenditure is providing an economic crutch as parts of the private sector tackle debt levels and limit investment.
"The policy of our government is giving more priority for development of infrastructure," Gadkari, 58, said in New Delhi on Tuesday. "There is no problem of investments, no problem of money. We only need to fast track our decision-making process."
Budget Looms
Gadkari is pushing for more funds as Finance Minister Arun Jaitley prepares to unveil next month the budget for the fiscal year starting April.
In its previous budget, the government vowed to reinvigorate the economy through public investment. That's taken a toll on public finances. The finance ministry in December warned it may have to reassess next year's fiscal-deficit goal if growth slows.
India's gross domestic product is expanding at a more than 7 percent clip, and Gadkari said improving the country's infrastructure -- whose quality is ranked below that of China and Indonesia -- can boost GDP by 2 percent and add 5 million jobs.
India plans to award a total of 10,000 kilometers of road project contracts by March, Jaitley said Thursday after a meeting with Gadkari, banks and highway builders in New Delhi. The finance minister said road construction projects will help economic growth and aid steel, cement and the auto manufacturing industry.
The transport ministry is also considering options for overseas loans, according to Gadkari. While interest rates may be attractive, the challenge is to find solutions for foreign-exchange hedging costs, Gadkari said.
Weaker Rupee
The rupee has weakened about 10 percent against the dollar in the past 12 months, according data compiled by Bloomberg, underlining the need for hedging.
Any additional spending could generate demand for builders such as IRB Infrastructure Developers Ltd. and Gayatri Projects Ltd., and cement makers including UltraTech Cement Ltd. and Ambuja Cements Ltd. A wider and better road network could spur sales of cars and commercial vehicles by companies such as Maruti Suzuki India Ltd.
Gadkari aims to build 100 kilometers of roads a day, up from about 18 kilometers currently. A new funding model is expected to speed things up -- the government will pay an annuity to the successful bidder for a project to cut financial risks. The road ministry has received bids for eight projects under the plan, and will seek offers for another 27 before March, the minister said.
Vibhor Singhal, a Mumbai-based analyst at PhillipCapital India Pvt., said that while the roads sector is "one of the brighter spots" in the Indian economy, one has to be cautious about how plans will be executed.
"Laying 100 kilometers of roads a day, for instance, would be a bit of a stretch," he said. "There is not enough capability in India's private companies when it comes to execution."
Gadkari's targets are ambitious. In the year through March 2015, India built 4,410 kilometers of highways, compared with the goal of 6,300 kilometers.
About 5,100 kilometers of highway projects are at risk of not being completed because of delays in land acquisition and clearances, Crisil Ltd., the Indian unit of Standard & Poor's, said in an October report. Gadkari said that while land acquisition is a problem, his ministry has worked around it by paying increased compensation.
"Every challenge is an opportunity for me," Gadkari said. "Whatever I say, I complete it."