Iraq Kurds Agree on Independence Vote, Official Says
by
Vote could lead to break-up of OPEC's second-biggest producer

Baghdad says unilateral independence is unconstitutional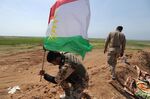 Iraqi Kurdish leaders plan to hold a referendum on the region's independence, an official said on Wednesday, in a move that could lead to the break-up of OPEC's second-biggest oil producer.
Massoud Barzani, president of the semi-autonomous Kurdish Regional Government, and other Kurdish leaders have all agreed to hold the referendum, said Kifah Mahmoud, an adviser at the president's office.
While they all agreed to hold the referendum, the vote "doesn't mean independence. It is the decision of the people," Mahmoud said.
The Kurds, who historically have resisted control by Arab-dominated governments in Baghdad, are independently developing oil reserves they say may total 45 billion barrels -- equivalent to almost a third of the deposits in the rest of Iraq, according to BP Plc data.
Saad Al-Hadithi, a spokesman for Iraqi Prime Minister Haider Al-Abadi, said "any unilateral position from any party without coordination or approval will be against the constitution and illegal."
The Kurds have been holding back crude produced in their enclave in northern Iraq and exporting it independently since June via a pipeline through Turkey, as they exercise greater control of their own affairs. KRG finances have been eroded by a budget impasse with Baghdad, the collapse in crude prices, and the cost of a war against Islamic State militants.
(
Corrects after official retracted reference to the 2016 timeline.
)
Before it's here, it's on the Bloomberg Terminal.
LEARN MORE