Goldman's Former Head of Junk Bond Trading Has Some Choice Words About the Credit Market
The unwinding of the "efficient capital structure" beckons.
by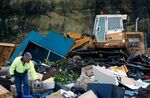 It may feel as if bond bears are everywhere these days, but for Jeff Bahl, former head of U.S. high-yield credit trading at Goldman Sachs and now a portfolio manager at Bahl & Gaynor, there aren't enough of 'em.
Taking matters into his own hands, Bahl's latest letter to investors comes with a warning label:
Warning: This is not your cookie-cutter advisor letter. During periods of market stress, there is the clockwork mailing of generic and uninspired advisor letters. These cookie-cutter notes tend to be chock full of "hope" and a universal message to "buy the beaten up stocks". The Taylor Swift and crafts station is in another room.
What follows is a "while history does not repeat, it certainly rhymes"-style argument applied to the high-yield debt market, which has jumped from about $944 billion outstanding back in 2008 to $1.8 trillion currently.
And while Bahl isn't predicting an "end of times"-style wave of corporate defaults, he is drawing on his two decades of bond trading experience to call for a turn in the credit cycle that will spur deleveraging.
Over the past two decades, we've experienced firsthand a few significant booms and busts within the credit markets. During each boom, it felt as if the trend had real permanence and extrapolations were sent to epic proportions. And, the violent unwind of each of those booms was stronger and longer than anyone had thought. Glory. Greed. Fear.
At issue is the feedback loop that has allowed companies to take on ever increasing amounts of debt, helped by investors chasing the uncorrelated and higher returns on offer from junk bonds.
Says Bahl:
Moving forward to today, the investment buzzword of the 2010s has been the "efficient frontier". In its simplest format, the thesis is that a portfolio is constructed with seemingly less correlated assets to produce a maximum return relative to the portfolio's projected volatility. The concept of "efficient frontier" has percolated into the executive suite as CEO's have been searching for the most efficient capital structure. Aided not so subtly by activists, the answer has universally been "more leverage" with a focused sweet spot on BBB/BB. Historically, there has been a clear correlation between well-capitalized companies outperforming their weaker counterparts during periods of rising corporate leverage. However, that relationship has not held since 2011 as the market has rewarded higher leverage (indicated in the exhibit below). As a result of the positive feedback loop, debt on corporate balance sheets is now at levels not seen since the financial crisis.

Source: Goldman via Bahl & Gaynor
While companies have largely been rewarded for assuming more debt and locking in the low-cost financing, at historically low interest rates, on offer from eager bond buyers,  so have investors—they've enjoyed six consecutive years of positive returns that have helped draw ever more money into the asset class.
Back to Bahl:
The majority of the new money can be classified as "tourists" aka renters, not owners. As a class, these tourists are unfamiliar with the risks and illiquidity and only familiar with a recent history of strong returns. Similar to the cracks that emerged in late 2007 in the mortgage market, cracks emerged over the past six months in levered credit. Faced with the prospect of deep and sustaining outflows, we've heard numerous times how the high yield capital markets have "evolved" and are better equipped to withstand financial shocks. In summary, we've again been told "this time it's different." It is our view that the problems we are witnessing with deep cyclical and commodity-related firms are not simply a matter of a flawed business model, but more of a flawed capital structure thesis. It's not the assets that these firms own that [are] causing widespread losses; it's the debt they owe which is suffocating their firms.

Similar to how the M&A [boom] had its violent unintended negative consequences, the "efficient capital structure thesis" is currently in the process of unwinding. Prior capital provided to many firms is likely permanently impaired. Further access to capital will prove to be prohibitively expensive for current equity holders. A blanket "buy the dip" mentality for the beaten-up names will potentially compound losses. Without taking capital structure into full consideration within an investment thesis will prove to be a perilous exercise. To reiterate, the game-plan has changed. 
Bahl's advice to skittish investors is to avoid the crafts station and make a beeline for "well-capitalized companies with established competitive moats and proven access to capital," if they haven't done so already. 
Before it's here, it's on the Bloomberg Terminal.
LEARN MORE