Deutsche Bank: The Market Is Pricing In a Rare Stretch of Carnage in Equities
A bevy of options traders seem to think a crisis is imminent.
by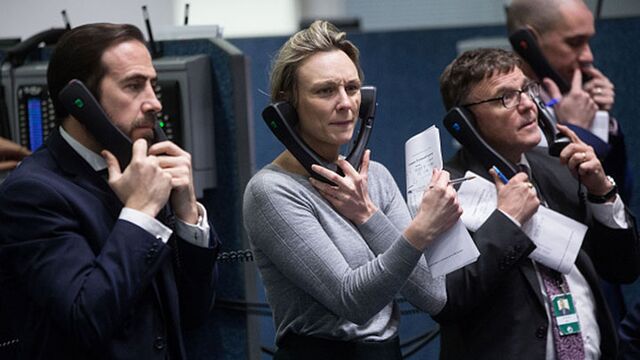 Oil is moving in tandem with U.S. equities—and while this may be a case of the tail wagging the dog, there's no telling how long this connection will endure, or how severe the downside could be for both asset classes.
According to Deutsche Bank, options markets are ascribing too high a probability to what would be a statistically uncommon sell-off in stocks. Based on the magnitude of the retreat in the S&P 500-stock index over the past month, the likelihood of a further decline of epic proportions has been diminished.
Strategists led by Vivek Anand aren't bullish on the prospects for either oil or equities, however, suggesting that strength in the greenback would hold down the former and foster elevated volatility in the latter. Even so, they wrote, "The market, we feel, is being too pessimistic about the far left tail."
Most statistics nerds cringe when you discuss price action in terms of standard deviations from a normal distribution. This is because gyrations in financial markets don't fall neatly into the typical Bell Curve: In finance, the "tails" (or outliers) of a distribution are considerably fatter and less uncommon.
We learned that much during the bund bloodletting of 2015, when yields on German debt made multiple massive one-day moves higher that seemed incredibly rare, all within an eight-day period.
In discussing downside tail risks, Deutsche's team observed that the options market is pricing in a 10 percent chance of a decline in the S&P 500 of at least 28 percent over the next year.
"This looks exaggerated," they wrote. "Historically, comparable sell-offs (conditional on an 8 percent or more sell-off in the previous month) have occurred during the Great Depression, the 2008 financial crisis, and briefly during the oil supply shock of the 1970s."

The strategists don't see a meltdown of this nature materializing over the next 12 months. 
"We see volatility remaining elevated, but not going to crisis levels for a prolonged period," they concluded. "The reasons: risks to the downside are not catastrophic (like in a financial crisis), and we have to associate some probability with the Fed turning supportive at some point."
Before it's here, it's on the Bloomberg Terminal.
LEARN MORE