Day Traders Reign in the Americas' Most Volatile Stock Market
by
China, currency and commodities make price swings more severe

Oil producer Petrobras and miner Vale are most volatile stocks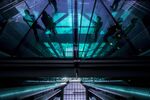 Day traders are displacing long-term investors in the Brazilian stock market, further fueling the volatility that helps them profit, analysts say.
As Brazil is stuck in a grind of recession and political gridlock, price swings have grown increasingly severe since August. It's not uncommon for companies on the benchmark Ibovespa equity index to surge as much as 10 percent one day, only to have those gains wiped out in the following session. That's spooking mid- and long-term investors, said Adeodato Volpi Netto, head of capital markets at the equity research firm Eleven Financial.

"The vast majority of the flows we've been seeing on the Brazilian stock market are speculative," Volpi Netto said from Sao Paulo. "Those investors buy when shares fall a little, sell when they rise a little, making a small profit every day. And they're happy with that."
Since August, the 120-day historical volatility for Ibovespa stocks has climbed from 20 percent to a peak of 26.4 percent on Jan. 15, the most among major stock gauges in the Americas. Historical volatility measures how far up or down the swings have averaged compared with average price during a certain period.
Global and domestic headwinds are making it too difficult to forecast profits and assess the true value of stocks, according to Volpi Netto. Companies that rely on government spending such as for-profit college operator Kroton Educacional SA or low-income homebuilder MRV Engenharia & Participacoes SA have become more volatile as lawmakers struggle to close a budget deficit. Vale SA and steelmakers including Gerdau SA surge or tumble with every bit of economic news out of China. And pulp makers Fibria Celulose SA and Suzano Papel & Celulose SA swing with every oscillation of the Brazilian real against the dollar.
Among the 15 heaviest-weighed stocks on the Ibovespa, the most volatile are Petroleo Brasileiro SA, the state-run oil giant rocked by a sweeping corruption scandal and the collapse in oil prices, and Vale, the iron-ore miner whose biggest clients are in China.

"Investors are completely amazed by the huge volume of variables that can define Brazil's destiny and that of its companies," Paulo Henrique Amantea, an analyst at the brokerage H.H. Picchioni, said from Belo Horizonte, Brazil. "Nobody is willing to take long-term risks right now. The only people trading stocks are those who do price arbitrages and daily profit-taking."
Before it's here, it's on the Bloomberg Terminal.
LEARN MORE