China's Industrial Profits Post First Annual Drop Since 2000
Bloomberg News
'We expect profit growth to remain weak,' Goldman Sachs says

NBS: Weak demand led to big deceleration in sales, production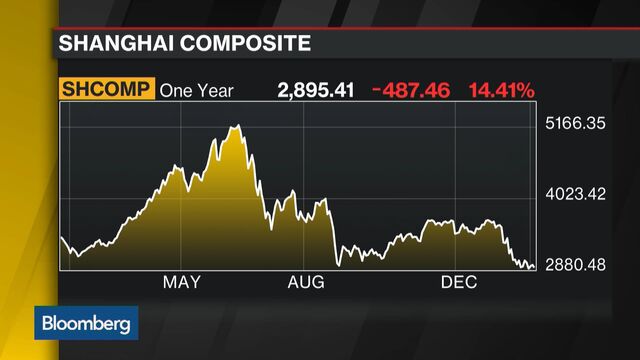 Profits at industrial companies in China posted their first annual decline in data since at least 2000 as demand and sales weakened amid the economic slowdown.
Cumulative profits of China's industrial enterprises fell 2.3 percent in 2015, the National Bureau of Statistics said Wednesday, after a 3.3 percent gain the prior year that was the weakest in at least 15 years. Profits in December fell 4.7 percent from a year earlier, slumping for a seventh month, after a 1.4 percent drop in November.
"Structural problems such as overcapacity are clearly weighing on profit growth, and low oil and commodity prices further dragged down profits," MK Tang, senior China economist at Goldman Sachs Group Inc. in Hong Kong, wrote in a note Wednesday. "We expect profit growth to remain weak. Even if measures to rationalize overcapacity pick up this year, overcapacity is likely to take a long time to adjust."
The report showed the worst losses were concentrated in industries with the most excess capacity such as metals and mining. The nation's leadership is working to reduce surplus industrial capacity in state enterprises, including planning major cuts to steel production capacity, even as they fight to prop up the slowest growth in a quarter of a century.
Significant Deceleration
A main reason for the drop at the end of the year was "weak demand, which led to significant deceleration in production and sales," NBS said in a statement with the data, which includes state-owned and privately owned enterprises. "Significantly lower prices of industrial products exacerbated the drop."
"The overcapacity sectors were hit the hardest," Zhou Hao, an economist at Commerzbank AG in Singapore, wrote in a note. "Monetary policy will have to remain extremely relaxed to help reduce the borrowing costs for the corporates."
Full-year mining-sector profits dropped 58.2 percent, NBS said, led by a 75 percent slide for oil and natural gas sector earnings and a 65 percent decrease for coal companies.
Manufacturing Gains
Metals and mining losses were offset by a 2.8 percent gain for manufacturing profits last year, which was led by a 9.1 percent increase for food companies.
State-owned enterprises registered a profit drop of 21.9 percent for the full year, compared with a 3.7 percent rise in the earnings for privately owned firms.
"The dwindling profit gains in these industries may soon turn into net losses," Zhao Yang, chief China economist at Nomura Holdings Inc. in Hong Kong, wrote in a note. "We believe the government will endeavor to reduce excess capacity in these industries this year."
— With assistance by Xiaoqing Pi
Before it's here, it's on the Bloomberg Terminal.
LEARN MORE