China's $1 Trillion Money Exodus Isn't About Capital Controls
by
Tighter regulation proposed by observers including BOJ chief

Companies and savers see better opportunities outside China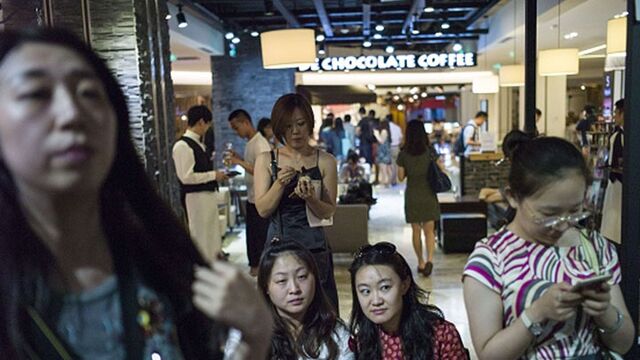 Last year, Chinese policy makers watched $1 trillion in capital head for the exits. Now, the question on the minds of global investors is what exactly will President Xi Jinping's economic team do about it.
One option is to build a wall around the $10 trillion-plus economy with new and comprehensive capital controls. It's the economic equivalent of breaking the glass and pulling the alarm--and some serious people are advocating it. One is Bank of Japan Governor Haruhiko Kuroda, who turned heads at the talking salons of Davos last week when he urged China to impose capital controls to stem the flow of cash leaving.
China has been getting a lot of unsolicited advice of late. Its trading partners, including Japan, and commodity producers the world over have a big stake in China's smooth transition from a high-speed export economy into a more sustainable one anchored by services and consumer spending.
Yet the transition isn't easy. China is growing at its slowest pace since 1990, and its domestic stock markets in Shanghai and Shenzhen have experienced massive and renewed sell-offs in January that have destroyed $1.8 trillion in wealth. Nor are there any quick fixes for authorities, who already have strict rules in place on money flows.
Halt Trade?
"There's not much China can do, short of actually halting overall trade," said Andrew Collier, an independent China analyst and former president of the Bank of China International USA.
The capital exodus is also a reflection of better investment opportunities abroad, and that's not necessarily a bad thing -- at least in moderation. Last year, Chinese companies spent a record $61 billion on foreign acquisitions that could take them into new markets and move up the innovation ladder in coming years. This month, Haier Group Corp. announced plans to use its publicly traded arm in Shanghai to pay $4.5 billion for General Electric Co.'s home-appliance business.
Other types of capital outflows are less welcome: Sustained outflows can fuel deflationary pressures, be a drag on growth and weigh on asset prices from real estate to shares. 
Warning Soros
Some Chinese savers are shifting their money out of the country for fear of a dramatic devaluation of the yuan and uncertainty about the government's intentions. The People's Bank of China has insisted it isn't contemplating a big change in currency policy. Last year, it spent a big chunk of the county's foreign-exchange reserves to prop up the yuan. State-media have warned speculators, including billionaire investor George Soros, to back off and not short-sell the currency.
And yet the yuan keeps falling -- hitting a five-year low earlier this month and taking its drop over the past year to more than 5 percent. The PBOC doesn't act with complete independence and sometimes bends to the will of the government, where some officials might be tempted to boost the export sector by guiding the currency down further.
Further undermining the Chinese savers' confidence are the tough policy choices ahead. If the government is serious about supporting the yuan and warding off speculators, it may need to further wind down the country's $3.3 trillion foreign-exchange reserve stockpile. 

Analysts worry that the buffer may not be as liquid as it appears or may in part be already committed to fund government projects. The reserve assets could hit a point considered uncomfortably low by mid-year, according to Bloomberg Intelligence.
"China has a large reserve but at this rate or higher, the liquid portion of the reserve 
may run low in months -- not years," said Victor Shih, a professor at the University of California at San Diego who studies China's politics and finance.
Yu Yongding, a former adviser to the PBOC, says policy makers should stop intervening in the currency market and preserve foreign reserves.
Then there are more draconian measures such as hiking interest rates or allowing a steep one-off depreciation. But steps like that come with significant risks in an economy that is slowing and requires massive restructuring among its debt-burdened state-owned industries.
The most draconian option of all -- imposing comprehensive new restrictions on the flow of money -- would fly in the face of past commitments to financial-sector reforms.
"We do not expect harsh capital-control measures, since the authorities don't want to jeopardize progress towards renminbi internationalization and capital account liberalization," the Institute of International Finance said in a statement, using the alternative name for the yuan. "Gap-plugging efforts can be futile."
Meantime, the pressure isn't letting up. Outflows jumped in December, capping an estimated 2015 total of $1 trillion, a record in Bloomberg Intelligence data dating back to 2006.

Here's another way of looking at the scale of the problem China faces: If just 5 percent of its 1.3 billion population sent the maximum $50,000 allowed out of the country, it would deplete the entire $3.3 trillion in reserves. Citizens frequently skirt the rules -- from pooling quotas to using so-called underground banks.
To be sure, China maintains many strengths. The underlying economy is showing signs of resilience, especially among the consumer and services sectors. And not all of the outbound cash can be described as capital flight: Some is to repay foreign debt or fund overseas investments.
"I don't think China's capital outflow is that serious now," said Derek Scissors, a scholar at the American Enterprise Institute in Washington who studies the Chinese economy. "Obviously if you have two more years of that, then you'll have a problem."
Still, the scale of the task was laid bare Tuesday when data showed the gap between China's reported exports to Hong Kong and the shipments registered by the territory widened in December, suggesting currency-market swings may have spurred a fresh round of fake trade invoicing. "The banks are having a tough time figuring out which transactions are legitimate," said Collier.
Other developments this week underscore the challenge foreign and local investors alike face when assessing the economy's strength. Wang Baoan, the head of the nation's statistics bureau, is the latest high-ranking official to be targeted in President Xi's campaign against corruption, a government statement showed just hours after Wang spoke on economic affairs.
While it would be a mistake to see the investigation as further evidence of problems with the veracity of China's economic data, "communication on the investigation (or the lack of it) is further evidence of China's tin ear when it comes to dealing with market perceptions," Bloomberg Intelligence economists Tom Orlik and Fielding Chen wrote in a note.
With so few good options, perhaps the most likely course will be a continued muddle-through approach, where the mix of intervention, jawboning and incremental capital tightening seeks to stem the capital outflow. Ultimately, fixing the issue requires restoring confidence about the economic outlook and the ability of Chinese policy makers to clearly telegraph their goals to global investors.
"Just start telling people what they will be doing is step number one," Scissors said.
Before it's here, it's on the Bloomberg Terminal.
LEARN MORE