Photographer: Andrew Harrer/Bloomberg
Charting the Markets: Countdown to Fed Decision
The U.S. dollar rises for first day in three, iron ore drops for a second day and BASF earnings are hurt by oil price slump.
by
Global stocks are little changed as investors await the culmination of the two-day Federal Reserve policy meeting. China's Shanghai Composite Index rebounded from a loss of 4 percent to finish the session 0.5 percent lower, taking the gauge to the lowest since December 2014. Apple isn't immune to China's troubles. The world's biggest company is beginning to see "economic softness" in Greater China, which includes Taiwan and Hong Kong. Apple also projected its first quarterly sales decline since 2003.

The dollar's prospects likely rest on the wording of the Fed's policy statement. Since the U.S. central bank raised interest rates on Dec.16 for the first time in almost a decade, a Bloomberg gauge tracking the dollar against 10 of its leading global peers has risen 1.5 percent, touching a record high on Friday. Those gains have been fueled in part by indications from the Fed that there will be four rate hikes in 2016. Investors are watching for any deviation from that plan. Traders have been more dovish than the Fed, pricing in roughly one rate increase this year. At the end of December the odds of a March move were 51 percent. Fed fund futures now put the probability at 25 percent.

Iron ore will will be the worst performing metal this year. That's the verdict of the World Bank, which cites low-cost supply outstripping consumption. The Washington-based lender says prices will average $42 a metric ton in 2016, a drop of 25 percent from 2015. Ore with 62 percent content delivered to Qingdao, a global benchmark, sank to a record low of $38.30 in December, having lost almost half its value last year. The slowdown in China has restricted demand from the world's biggest user. At the same time the biggest mining companies are raising production to build market share. The World Bank forecasts nickel may fall 16 percent in 2016, while copper may drop 9 percent.

BASF shares dropped as much as 5 percent after the world's largest chemical maker reported a bigger-than-expected decline in full-year profit. The plunging oil price hurt its Wintershall unit, an oil-and-gas producer. BASF is the worst performing stock on Germany's DAX Index. The energy business provides a strategic hedge for chemical operations, according to CEO Kurt Bock. He is shifting the company's focus further upstream to oil and gas production, entering into an asset swap with Gazprom and buying assets from Norway's Statoil. BASF shares have plunged 15 percent in 2016.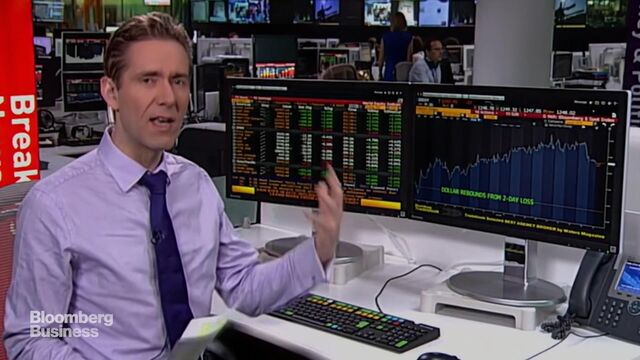 Mark Barton is a presenter on Bloomberg TV. Follow him on Twitter @markbartontv
Before it's here, it's on the Bloomberg Terminal.
LEARN MORE