Canada Lengthens Pipeline Wait as Trudeau Seeks to Break Logjam
by , , and
Rules mean TransCanada and Kinder Morgan projects face delays

Process will include more consultation with stakeholders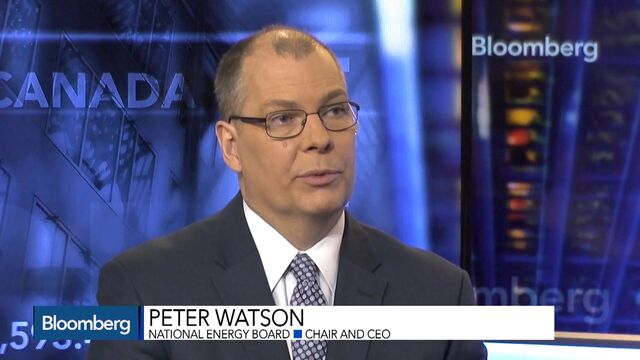 Canadian Prime Minister Justin Trudeau's plan to break a logjam in pipeline approvals means TransCanada Corp. and Kinder Morgan Inc. will have to wait even longer.
In a bid to overcome mounting opposition to oil exports, an overhaul of the country's review process will include more consultation with stakeholders and will apply to proposals such as Kinder Morgan's Trans Mountain expansion and TransCanada's Energy East, according to interim rules unveiled by Environment Minister Catherine McKenna and Natural Resources Minister Jim Carr in Ottawa on Wednesday. Changes will also apply to liquefied natural gas terminals and other projects.
"I'm looking for a process that has the confidence of Canadians," Carr said in a briefing in Ottawa. "That is why we are going to take more time."
Opposition to pipelines has stymied Alberta oil producers, already smarting from weak crude prices, as they struggle to expand access to new markets for their growing output. The lack of new pipeline capacity has contributed to a discount for heavy Canadian crude that has reached as much as $40 a barrel below U.S. benchmark prices in recent years.
The interim rules are a precursor to a broader update of environmental reviews. Trudeau's Liberals, who took power Nov. 4, campaigned on overhauling the system. For the first time, Canada's National Energy Board will examine the greenhouse-gas emissions impact of oil and natural gas production when assessing pipelines that would carry those fuels. Other regulators including the Ontario Energy Board have previously assessed this and the federal government has yet to say how it will calculate the impact.
Pushed Back
The changes push the deadline for a government decision on the Trans Mountain project, which is currently in hearings, to December 2016. For Energy East, for which hearings have yet to begin, they will add nine months, with a final decision expected in mid-2018.
While Kinder Morgan has concerns about how the regulatory delay could affect the Trans Mountain project schedule, it supports the notion that public confidence in the review process is "crucial," the company said in an e-mailed statement.
TransCanada is assessing the changes and said it supports a "strong and clear regulatory framework that helps Canadians see our commitment to building and operating oil and gas pipelines in the safest and most environmentally sound way possible," according to a statement e-mailed by Mark Cooper, a company spokesman.
'Public Confidence'
"The government is acknowledging that these changes will increase public confidence in this national infrastructure, and the increased confidence is what's needed to move projects forward," Tim McMillan, president of the Canadian Association of Petroleum Producers, said by phone.
The delays to both those projects are disappointing, Chris Bloomer, president of the Canadian Energy Pipeline Association, said in a phone interview. Given that the government intends to make changes beyond those announced Wednesday, it's too early to know whether assessments will improve, he said.
"This is just the first step," Bloomer said. "Clarity is what we need but with what we're looking at today, there's a lot more discussion that needs to happen as to how this is going to work."
Emissions Cap
Wednesday's announcement is the latest attempt by Canadian lawmakers to bring onside those opposed to fossil-fuel development and the pipelines that would carry oil-sands crude to market. Alberta Premier Rachel Notley last year outlined plans for a rising price on carbon and a cap on oil-sands emissions to help quell dissent. Energy companies have struggled to advance four Canadian oil export pipelines as political leaders come under increasing pressure to address global warming.
"Approving projects that facilitate emissions growth across Canada is not in the public interest in the absence of a credible plan to meet the country's climate change commitments," Erin Flanagan, federal policy director at the Pembina Institute, a Calgary-based environmental think tank, said in an e-mailed statement.
Investors anticipate a choppy ride for share prices with more uncertainty around the outcome of projects.
'More Volatility'
"There will be more volatility and uncertainty and more risk of volatile stock
prices," said John Stephenson, chief executive officer and founder of
Stephenson & Co. in Toronto, which owns Enbridge Inc. shares. "It's going to be possibly less attractive to bond holders, too. So overall uncertainty will rise."
And even with a more transparent and open process, the changes won't convince all pipeline opponents to support projects, said Steven Paget, an analyst at FirstEnergy Capital Corp. in Calgary.
"Some opponents are never going to be won over," Paget said. "They don't
have to convince everybody, they just have to convince enough people."
Before it's here, it's on the Bloomberg Terminal.
LEARN MORE