Brazil, Turkey Among Top Decliners in Global Corruption Ranking
By
Transparency International identifies cases of graft, opacity

U.K., Greece are among gainers in Corruption Perceptions Index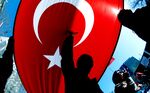 Brazil and Turkey were among nations that tumbled the most in a global corruption ranking amid an ongoing scandal at state oil company Petroleo Brasileiro SA and Turkish President Recep Tayyip Erdogan's expanded bid to shore up power.
Brazil slid to 76th place among 168 nations on the list last year, down from 69th, Transparency International said in its 2015 Corruption Perceptions Index. Turkey fell two spots to 66th, continuing its descent from 53rd place in 2013. The U.K. climbed in the ranking, to the No. 10 spot from 14th. Greece also got a boost, advancing to 58th from 69th, the watchdog said.
"Corruption can be beaten if we work together," Jose Ugaz, the chairman of Berlin-based Transparency International, said in an e-mailed statement. "To stamp out the abuse of power, bribery and shed light on secret deals, citizens must together tell their governments they have had enough."
Brazil has been shaken by a sprawling corruption probe at Petrobras, which has spread to the country's biggest companies and ensnared some of its highest-ranking politicians. In Turkey, where Erdogan's ambition to expand presidential power was boosted by an election victory in November, government influence has crept through to universities, law enforcement, the media and the judiciary.
Denmark, Somalia
Denmark, followed by Finland and Sweden, retained its perch at the top. War-devastated Somalia and the isolated communist regime in North Korea held their last-place spots.
Transparency's ranking, a composite index that draws from 12 surveys to rank nations around the globe, has become a benchmark gauge of perceptions of corruption and is used by analysts and investors. The index grades a country on a scale of zero to 100, the latter being the least corrupt. Denmark scored 91 points, Somalia eight.
The U.S. gained a spot to 16th, while Australia fell to 13th from 11th place. Russia climbed to 119th from 136th. China bounced back from a drop last year, to 83rd place from 100th. 
The watchdog group took note of the investigations into bankers' manipulating of Libor interest rates to support their own trading, including Deutsche Bank AG's $2.5 billion fine to settle U.S. and U.K. probes.
"Western Europe's relentless stream of banking scandals continued in 2015, as Deutsche Bank paid the largest Libor fine in history in a market-rigging scandal," Transparency said. "More proof that the financial sector -- banking in particular -- is in dire need of reform."