business
The Big Bank Long Has Turned into the Big Bank Short
By
KBW Bank Index tumbles 24 percent since July into bear market

Financials are second-worst performing group in past month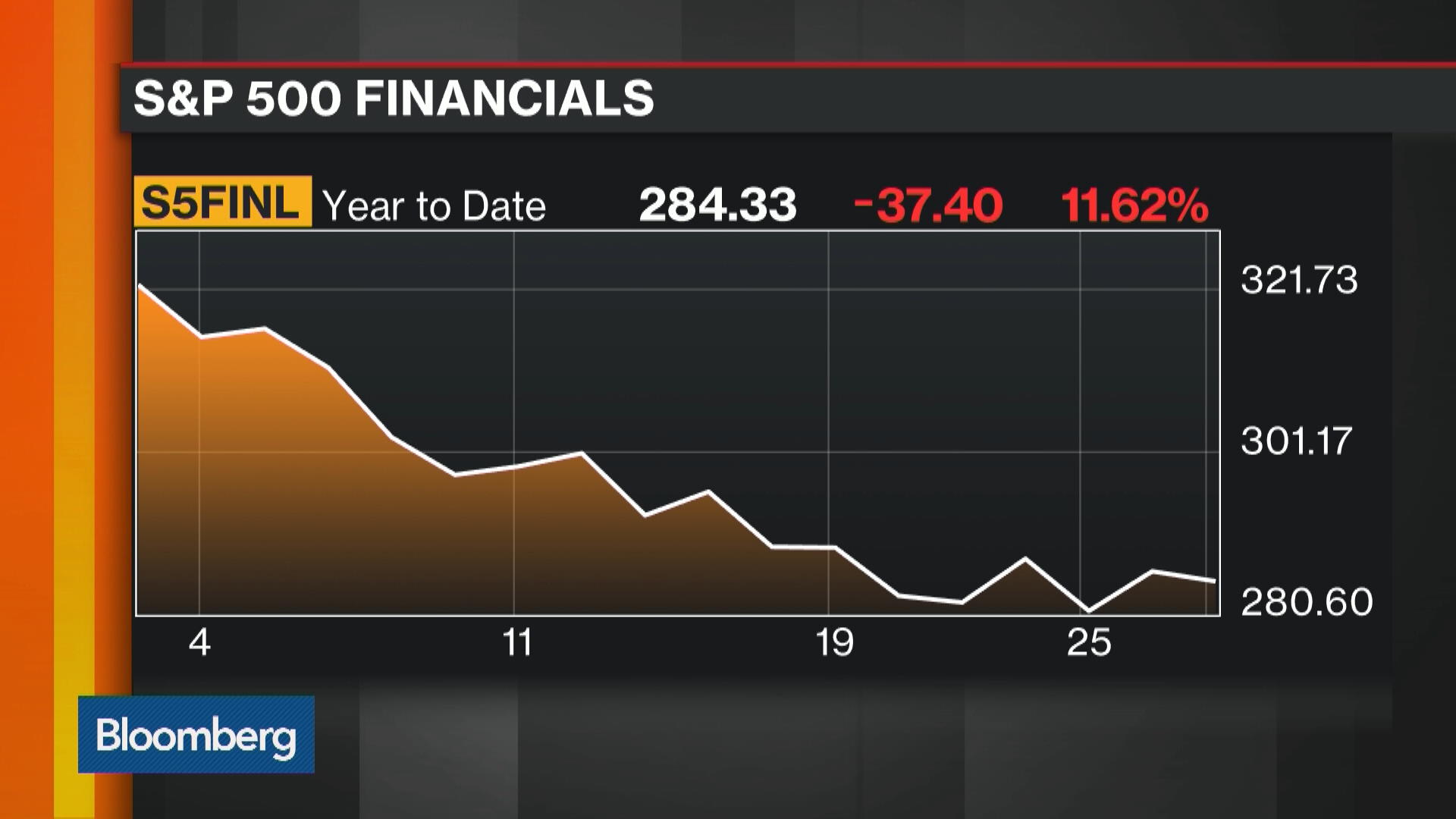 Remember how investors piled into financial stocks betting higher interest rates would stoke an earnings renaissance? A month later, that big long is a big short.
The Standard & Poor's 500 Financials Index has tumbled almost 12 percent in 2016, putting it on track for its worst month in almost seven years. The group -- which includes Berkshire Hathaway Inc., Wells Fargo & Co. and 86 other companies -- is neck-and-neck with commodity stocks for the biggest slide among 10 industries since Federal Reserve policy makers met Dec. 16. The financials index fell as much as 1 percent earlier in the session before closing 0.4 percent lower as of 4 p.m. in New York.

It's been a rapid change of heart since then, when the central bank raised interest rates for the first time in almost a decade. Financials were the most-favored group among large-cap managers as of Oct. 31, according to data from Goldman Sachs Group Inc. An exchange-traded fund tracking the stocks attracted the second-highest cash flows in the month leading up to the rate liftoff. Now those expectations may be making the rout worse.
"Heading into that, people were really focused on rewarding financials after years of waiting for a rate hike, and then once it came, it was coupled with not only a broad-based selloff, but real concerns about economic growth," David Mazza, head of ETF research at State Street Global Advisers, said by phone in New York. "People are continuing to sell the news."
One problem for banks is that December's bull case was built on speculation that profits would improve at a time when the opposite was happening. Between August and the end of the year analyst estimates for fourth-quarter earnings at financial firms in the S&P 500 shrunk by 15 percentage points, almost single-handedly erasing any prospect for profit growth in the broader index.
The same thing is going on in 2016, with analyst estimates for profit growth dropping from almost 10 percent at the end of the third quarter to just over half that today. Concern about everything from trading revenue to how solvency risk will affect loans are cited as reasons.
"It's not surprising that bank stocks have lagged, but the amount of underperformance makes us wonder what stocks are pricing in," Deutsche Bank analysts led by Matt O'Connor wrote in a Jan. 26 note. "From a bottom's up point of view, we see two main sources of downside to bank EPS -- higher credit costs and weaker capital markets revenue."
Commercial and industrial loans have flat lined in recent weeks after steadily climbing throughout 2015, according to data compiled by Bloomberg. Growth in such loans offers investors an idea of potential interest income, as C&I loans typically produce more revenue for banks than parking funds in cash or Treasuries.
More than $360 billion of market value has been wiped out of financial companies in January, more than in all but one month since data began in 1990. Selling has been so fierce that it's pushed price-earnings ratios in the broad financials index to 12.8, the lowest among 10 industries.
The beloved trade has unwound, as ETF outflows for financials have totaled almost $1.1 billion, second only to tech stocks among the 10 main groups. Short interest as a percentage of shares outstanding for the Financial Select Sector SPDR Fund jumped to the highest since October 2013 last week and now sits at about 5 percent, almost double its one-year average.
Recession concerns, plunging oil and decreasing prospects for more rate increases have left lenders to bear the brunt of one of the worst starts on record for U.S. stocks. The S&P 500 Financials Index has trailed the full index by as much as 5.1 percent since Dec. 31, its worst relative decline in a comparable period since 2012. The group is trading near a three-year low relative to the S&P 500.
Even an earnings season that's brought "decent results" for companies in the financial sector hasn't been enough to arouse interest, as sentiment is "particularly poor," Mazza said. "Investors are now characterizing financial stocks in the same light as they are with energy and materials."
Banks just eked out their most profitable year since before the financial crisis by slashing budgets, as heavyweights like Wells Fargo, JPMorgan Chase & Co. and Goldman Sachs Group Inc. reported better-than-expected fourth-quarter sales and earnings in recent weeks. Even so, bigger-picture uncertainties are weighing on the group, not least of which is how wounds at energy companies will bleed into this sector. Bank of America, Citigroup Inc., JPMorgan and Wells Fargo have set aside more than $2.5 billion to cover souring energy loans and will add to that if oil prices remain low.
The KBW Bank Index, which includes several regional institutions, has slumped almost 24 percent from a July high, sending it into a bear market. Comerica Inc., headquartered in oil-dependent Dallas, is among six stocks in that index which have tumbled more than 30 percent since July.
Meanwhile, Deutsche Bank slumped to its lowest level since the financial crisis, which speaks to the negativity about the broader industry, Michael Antonelli, an institutional equity sales trader and managing director at Robert W. Baird & Co. in Milwaukee, said by phone. "I didn't think there could be a time when people thought less of banks than the 2008-2009 period. Everybody's been talking about energy and you're starting to see more and more people asking, 'What's going on with financials?"'
The problem? "There's no good answer" beyond the obvious ones of slower global economic growth, fewer rate hikes to come and bleed-through from the energy sector, he said. Rather, more pain. The "vicious" nature of the year-to-date selloff in these stocks. has surprised many investors, Antonelli included.

"The past 16 days of trading have been incredibly rough for these stocks," Jim Stellakis, founder and director of research at Greenwich, Connecticut-based Technical Alpha Inc. "At the end of last year, everybody was happy with banks and now they're not."
Chart-watchers also are taking note because financials have fallen out of a range they've been in relative to the S&P 500 since September 2013, which reflects the "herd-like mentality" investors have for these stocks, Stellakis said. "People have very short-term memories about this group, they rush out and then rush back in. People don't how to value these stocks."
— With assistance by Lu Wang
(
Updates today's trading in second paragraph.
)
Before it's here, it's on the Bloomberg Terminal.
LEARN MORE