ANZ Bank Is Prepared to Lose Asia Clients Who Won't Pay Fees
by
After management shakeup, Elliott sets turnaround goals

Bank to have `hard conversations' with clients in region
Australia & New Zealand Banking Group Ltd. Chief Executive Officer Shayne Elliott reshuffled his top management and unveiled a new drive to improve the bank's profitability, saying he's prepared to lose customers in Asia in order to boost returns.
Elliott, the former chief financial officer who took over as CEO this month, said the bank will have "hard conversations" with clients unwilling to pay for the regional service and funding the lender provides. He also said he'd prefer to reduce the number of Asian lenders ANZ held stakes in.
"We provide access to our balance sheet and services to multiple countries," Elliott said Wednesday in a telephone interview. "That is only of value to some clients and unless clients are willing to pay for it, then we really can't have them as our clients."
Elliott inherited extensive operations across Asia from predecessor Mike Smith, who pursued an expansion strategy that has dragged down returns on equity and hurt the share price. He joins bank CEOs including Deutsche Bank AG's John Cryan in signaling a loss of patience with the difficulty of generating fees in Asia.
"It is not about exiting product areas or geographies in Asia," to boost returns, Elliott said in the interview. "It is about having some hard conversations with some customers, and if that means some of those customers say they will take their banking elsewhere, so be it."
Improving Returns
Elliott already flagged his focus on improving returns on equity from the region in October when the bank reported its slowest growth in annual profit since 2008. The bank said then it will shrink its Asian trade finance exposure by A$9 billion ($6.3 billion). That move would "buy time" for the new management to turn around the business, Elliott said.
ANZ's overseas operations, primarily the business in Asia, consumed nearly a third of the bank's capital in the year to September, while accounting for less than one-fifth of profits.
"Elliott's concentration on returns is a good story given ROE , profit growth and dividend are the main focus for an investor," David Ellis, a Sydney-based analyst at Morningstar Inc. said by phone. "While losing clients may reduce revenue, the possibility of increased ROE outweighs it."
ANZ also announced plans to reshuffle the bank's top management, with Mark Whelan appointed to lead the institutional-banking business and replace Andrew Geczy, who said last week he will leave the company by the end of the month. The deputy head of the international and institutional business, Gilles Plante, will also leave, it said.
In the interview, Elliott reiterated plans to exit some of the bank's investments across Asia. The stakes include a 39 percent holding in PT Bank Pan Indonesia and 24 percent of Malaysia AMMB Holdings Bhd.
Asian Stakes
Elliott said ANZ isn't in a hurry to exit the partnerships, but he indicated he'd prefer to have a smaller portfolio in five years. The lender valued its shareholding in the Asian assets at A$5.4 billion as of Sept. 30, according to its annual report.
"We are open to shrinking the portfolio," he said. "We do have time but on the other hand I don't want to be sitting on the same portfolio in five years' time. We need to move on."
As part of the leadership shakeup, management responsibility for the bank stakes across Asia was carved out of the institutional business and handed to Elliott's deputy, Graham Hodges.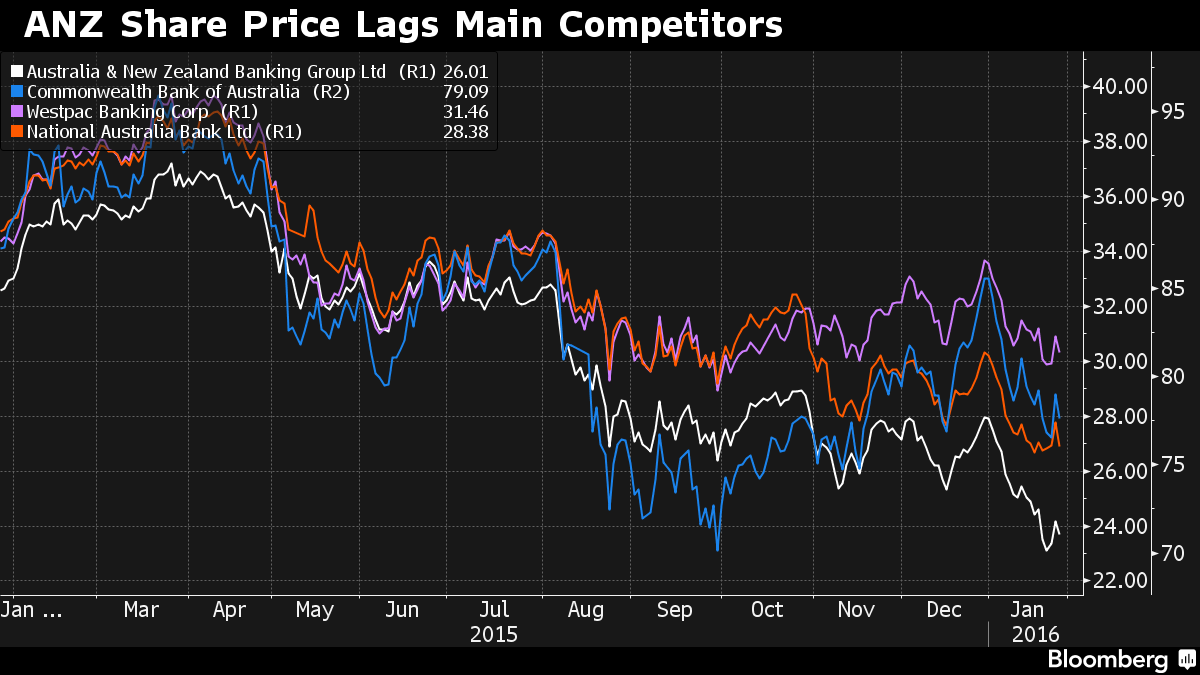 ANZ shares are trading at 1.15 times the value of its net assets, the lowest among its main competitors -- Commonwealth Bank of Australia, National Australia Bank Ltd., Westpac Banking Corp. -- where the average is 1.9 times. ANZ shares have lost 27 percent in the past 12 months, compared with a 15 percent drop in the S&P/ASX200 bank index.
The bank's return on equity for the year ended Sept. 30 stood at 14 percent, compared with 19 percent for Commonwealth Bank and 16 percent for Westpac Banking Corp. in their most recent financial years, filings show.
ANZ has 20,512 employees in its non-Australia and New Zealand businesses, primarily in Asia, serving 1.6 million customers, according to an investor presentation in September.
Before it's here, it's on the Bloomberg Terminal.
LEARN MORE