Alcoa Sees Record Aluminum Deficit Even as Goldman Predicts Glut
By and
Price slump forcing some money-losing smelters to curb output

Cuts by China may fall short of forecast as energy costs drop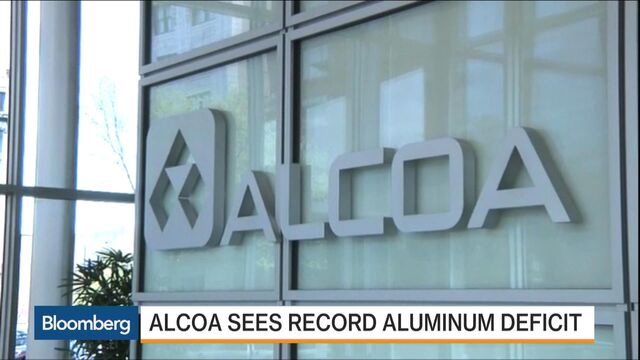 Alcoa Inc., which is spinning off aluminum assets later this year, sees something that much of the market doesn't: an end to the prolonged surplus that left prices near a six-year low.
With about half the world's aluminum plants losing money, the U.S. company that invented the domestic industry more than a century ago says global demand will exceed production this year by a record 1.2 million metric tons, forcing car and appliance makers to draw down inventories. While others predict smaller deficits, many banks including Goldman Sachs Group Inc. and producers like Norsk Hydro ASA say the glut will only get bigger.

Prices tumbled 19 percent last year, the most since 2008, and reduced output has been indicated in China, home to about half the world's smelting capacity. But energy prices have kept plunging and the yuan is weakening. That's reducing costs for some producers, which means unprofitable plants may be able to hold on longer, Morgan Stanley said in a report last month. Any curtailments are unlikely to last because the Chinese government is offering support for industrial companies and has been reluctant to cut jobs as the economy slows, industry researcher Harbor Intelligence said.
"I just don't know anybody that believes that there's even a deficit, much less one of that magnitude," Kevin Moore, the president of All Raw Materials Consulting in Clarkston, Michigan, said of Alcoa's forecast. "I see no numbers beside what Alcoa showed that would support that case, and I see a lot of different analyses by different people. So I have a difficult time understanding how theirs could be correct and some of the others would be so off base."
'Bearish Shock'
After an expansion of supply during the commodity bull market over the previous decade, demand has been hurt as the global economy slowed, particularly in China, the world's biggest metals user. Aluminum is still facing "the greatest bearish fundamental shock in a generation, and perhaps in its history," analysts at Goldman said in a Dec. 21 report. The bank says the surplus this year will be 2.781 million tons. Macquarie Group Ltd. predicts a glut of 1.71 million tons, and Morgan Stanley forecasts 280,000 tons.
Aluminum traded on the London Metal Exchange touched $1,432.50 a ton on Nov. 23, the lowest since May 2009. Prices are down 47 percent from a peak in 2011 of $2,803, and traded at $1,514.50 at 3:33 p.m. in London.
"We're in a very weak global industrial environment," Colin Hamilton, head of commodity research at Macquarie, said Jan. 20 in an interview in Ft. Lauderdale, Florida. "There have been cuts in China, but I think that's more a function of weak demand and seasonality."
New York-based Alcoa figures the slump is about to force major production cuts. That's going to create a "meaningful deficit" equal to about 2 percent of demand, according to an analysis of Chinese production and market intelligence, Roy Harvey, head of the company's primary metals division, said in a Jan. 15 interview. The world consumed about 53.3 million tons in 2014, according to the last complete year of data compiled by Bloomberg Intelligence.

"We've built up a proprietary model, looking at every plant that exists in the
world," said Harvey, who is slated to become CEO of Alcoa's smelting, mining and energy assets when they are split from the company later this year. "We have boots on the ground. We have people analyzing what we see in terms of actual production rates."
Alcoa isn't alone. Russian producer United Co. Rusalforecasts a deficit of 718,000 tons. Bank of America Corp. predicted a deficit of 7,000 tons, or about 0.01 percent of 2015 demand.
The Alcoa forecast assumes 3.9 million tons of Chinese production cuts announced in the second half of last year will be fully implemented by April, but any reductions won't last for "a meaningful period," said Jorge Vazquez, managing director at Harbor, which anticipates a production glut of 667,000 tons in 2016. Oslo-based producer Norsk Hydro in December estimated as much as a 1 million-ton surplus this year.
"The problem is you've got 2.9 million tons of smelters that are supposedly closed that will reopen at the drop of a hat," Paul Adkins, managing director of AZ China, said last week at an industry conference in Ft. Lauderdale, Florida.