U.K. Strength Ignored as Carney Frets About Global Threats
by
Economists say U.K. economy grew 0.5% in the fourth quarter

Weaker global momentum, oil-price decline weigh on BOE outlook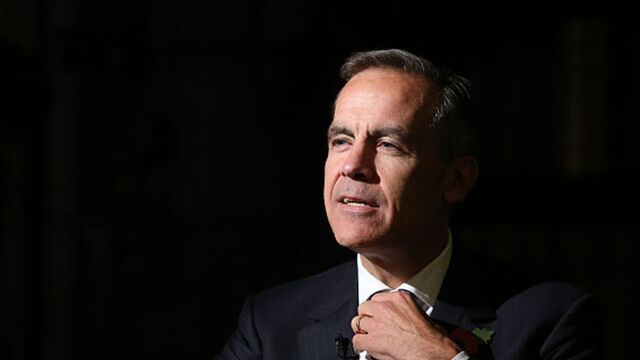 For Mark Carney, three years of non-stop growth and the lowest unemployment rate in a decade aren't proving enough to nudge him toward a rate increase.
While data this week will likely show expansion accelerated in the fourth quarter, the Bank of England governor and most of his colleagues are focusing on global risks that could rattle momentum and restrain inflation. That's prompted downbeat commentary from Carney in his outlook for 2016 and seen some economists now forecasting no change to interest rates for another year.

From falling oil prices to China's slowdown, the issues that have convulsed global markets this year could also take their toll on the U.K., which is predicted to have grown 0.5 percent in the final three months of 2015. But that headline figure only tells part of the story. Strength in domestic demand masks weak manufacturing and exports, and Britain's referendum on European Union membership also risks knocking things off course.
"It'll be solid growth with the risk of a downside, with services doing all the heavy lifting," said Alan Clarke, an economist at Scotiabank in London. The 'Brexit' vote "makes for a slightly more uncertain year though you'd need a big setback to either employment or sentiment leading up to the referendum" for momentum to be derailed, he said.
The U.K. is typically the first Group of Seven nation to report quarterly GDP data, with the U.S. scheduled to follow on Friday. The forecasts for the U.K. ranged from 0.3 percent to 0.6 percent after growth of 0.4 percent in the third quarter.
Domestic Demand
Domestic demand probably continued to lead the economy as consumers benefited from rising employment, falling oil prices and real wage growth. For 2016, economists surveyed by Bloomberg expect expansion of 2.2 percent, matching the pace estimated for last year.
QuickTake Will Britain Leave the EU?
Growth at the end of 2015 would mark a 12th straight quarter of expansion, a period that's also seen the unemployment rate fall to 5.1 percent from as high as 8 percent. On the other hand, inflation is close to zero versus the BOE's 2 percent target, and the pickup will probably be slow. For Carney that means the key interest rate stays at a record-low 0.5 percent for now.
"In my opinion we will have to see the renewal of growth above trend, we'll have to see unit labor costs pick up, and we'll have to see a continued firming of core inflation," the governor said at a hearing of Parliament's Treasury Committee in London on Tuesday.
Brexit Concerns
Investor caution about Brexit and the U.K. outlook has helped to drag the pound to the lowest in almost seven years against the dollar. While that could help exports and spur inflation, the same caution seeping into consumer or business behavior could undermine investment and employment.
That's a risk for an imbalanced economy like the U.K., where optimism among firms is already taking a hit from the referendum. Roger Carr, chairman of London-based BAE Systems Plc, says businesses can't afford to let the vote -- which could take place as early as June -- undermine the economy.
"The fundamentals still are there for all to see," he said in an interview at the World Economic Forum in Davos. "They are our closest neighbor, they are our major trading partner, we have seven of our largest markets in Europe. Therefore part of our economic fortune is still linked to Europe."
Before it's here, it's on the Bloomberg Terminal.
LEARN MORE