Traders Dump Tech ETF, Discounting Any Boost From Apple Results
by
Fund tracking sector poised for biggest outflows in 15 months

Options signal higher volatility for Apple after earnings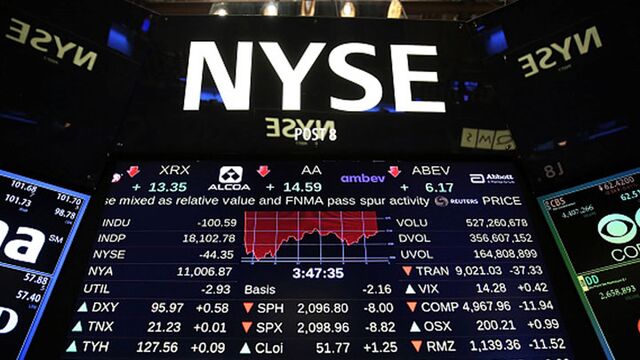 Investors are fleeing technology stocks at a pace not seen in over a year, and Apple Inc.'s earnings today has done little to change their mind.
So far this month, $1.1 billion has left the largest exchange-traded fund tracking technology stocks. That puts January on pace for the biggest monthly outflow since October 2014. Short interest in the ETF also jumped last week to a four-month high, data compiled by Bloomberg and Markit Ltd. show.

Part of the problem is Apple. The stock market's once biggest superstar has become riddled with questions over whether it can sustain sales growth of the iPhone, its most important product. Apple shares have tumbled 12 percent since its last quarterly report in October. The company, which is the biggest component of the technology ETF, hasn't helped lure investors before it announces results Tuesday after the market close.
"The whole technology sector has fallen out of favor, and Apple is certainly a big part of that," said Bill Schultz, who oversees $1.2 billion as chief investment officer at McQueen, Ball & Associates Inc. in Bethlehem, Pennsylvania. "There's some concern that the Apple growth rate is slowing going forward. At this point, people are looking elsewhere for more reliable earnings."
Technology stocks in the Standard & Poor's 500 Index have plunged 8 percent in 2016 after seven straight years of annual gains. Their change in fortune mirrors a reversal in momentum stocks. The group, which helped power the bull market rally in equities, have been out of favor in 2016. A momentum ETF, in holds Apple as its the biggest component, has tumbled 8.1 percent this year, trailing the S&P 500.
Investors who have grown accustomed to post-earnings gains by Apple may see more volatility this time around. Apple shares have advanced after five of its last seven earnings reports by an average of 4.7 percent. Traders see the potential for a wilder swing tomorrow, with options indicating a one-day move of 7 percent in either direction.
The iPhone is by far Apple's biggest money maker, accounting for 66 percent of Apple's revenue last year. Heightened worries this year over China's economy, a region that makes up about 17 percent of the company's sales, has spooked Apple holders.
Before it's here, it's on the Bloomberg Terminal.
LEARN MORE