Traders Are Pulling Money From VIX Funds Like Never Before
by
Even as the securities rise, investors are going for the exit

VIX index of market stress jumps 33 percent in January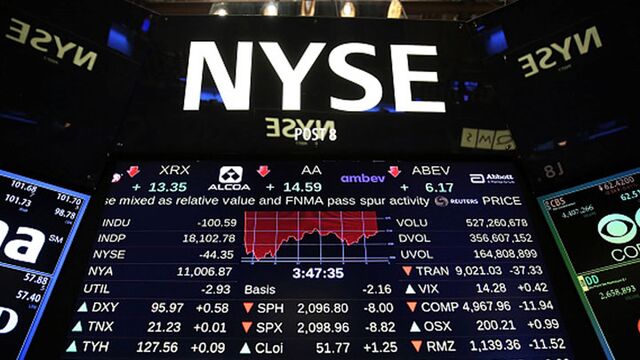 While stocks are having a chaotic start to the year, investors are withdrawing money from securities that profit from higher volatility at the same time as short sellers are piling into bets that tranquility will return.
Traders yanked $850 million from two of the most popular exchange-traded products tracking moves in the Chicago Board Options Exchange Volatility Index in January. That's even as the gauge of investor anxiousness known as the VIX is set for its biggest monthly surge since August. In one note, bearish bets briefly climbed to more than 100 percent of shares outstanding.
The positioning reflects speculation that something will cause volatility to drain out of a U.S. stock market where as much as $2.4 trillion of value was erased. Traders such as Mizuho Securities USA Inc.'s Monish Shah and JonesTrading Institutional Services' Dave Lutz say the selloff has gone too far and that central banks will help counter the effects of a Chinese economic slowdown and slump in oil.
"Central banks, historically acting as shock absorbers, eventually came to the rescue and adopted a dovish tone, thereby implicitly indicating that 'We are here to take care of the situation, so don't worry,"' said Shah, the head of ETF business at Mizuho Securities in New York. "This will help stabilize the market and reduce volatility in the short term."
How high did volatility get this year? Consider that in January, front-month VIX futures traded near their highest level since September relative to those expiring in July. Their premium is one of the biggest since 2011 for contracts that usually cost less than longer-term bets. The VIX fell 5 percent at 10:45 a.m. in New York.
The Standard & Poor's 500 Index has lost 8.2 percent this month, heading for its biggest plunge since May 2010, on mounting worries that the Federal Reserve removed its life support too soon. The VIX, which tends to move inversely to U.S. stocks, has risen 33 percent -- and securities that climb with it have jumped too.
Yet both the iPath S&P 500 VIX Short-Term Futures ETN and the ProShares Ultra VIX Short-Term Futures have seen outflows in January. What's more, short interest for the two has risen, according to Markit data. It surged to 89 percent of shares outstanding for the iPath ETN and to 29 percent for the ProShares fund, from 2.6 percent earlier this month.

Once obscure, exchange-traded notes and funds that rise and fall with the level of turbulence in the U.S. equity market have surged in popularity in recent years, with daily volume in the most popular regularly exceeding 100 million shares in 2016. The securities are used by professional speculators and individuals alike to hedge stocks or bet on the direction of volatility.
The products are tied to benchmark volatility measures such as the VIX and related futures, which trade hundreds of thousands of times a day in Chicago. In most cases, a long position in the VIX or one of its contracts amounts to a bet that market swings will widen and stocks will decline.
Rather than signaling a decline in equity turbulence, outflows could just mean that investors are cashing out, according to Nicola Marinelli of Pentalpha Capital Ltd.
"This stuff makes money only in few instances, so when that happens you take profit," said Marinelli, a fund manager who helps oversee 114 million euros ($124 million) at Pentalpha in London. "Central banks have less and less power."
The VelocityShares Daily Inverse VIX Short-Term ETN, which moves in opposite direction to the volatility index, has seen inflows this month, and its short interest also rose. Yet those are not what they used to be -- the $456 million it gathered is less than half what traders put in during the August-September rout. For Macro Risk Advisors, that's a sign investors are no longer interested in buying the dip, according to a Jan. 25 note.
Lutz, head of ETF trading for JonesTrading, is in the camp betting the wild days will subside. In addition to dovish central-bank statements, stocks should get a boost from the earnings season, which has started better than expected, he said. McDonald's Corp. posted its best quarterly growth in almost four years, and JPMorgan Chase & Co. reported profit that beat analyst projections.
"A lot of people feel that the front end of the VIX curve -- so volatility protection for the next month or two -- got very elevated relative to the rest of the VIX curve, so we've had people selling those products," Lutz said by phone from Annapolis, Maryland. "They see the sharp selloff that we had to start the year was overdone. With the ECB and BOJ getting ready start to add more stimulus into the system, that should offset the impact of the Fed raising rates."
Before it's here, it's on the Bloomberg Terminal.
LEARN MORE