Restaurants
The World's Best Restaurants Have Given Up the Fight Against Phones
Food photos and social media are good for business, top chefs admit. Just don't try using your phone to talk.
By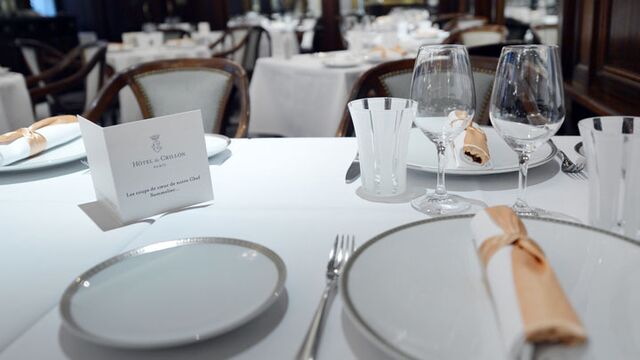 If you'd like to see mobile phones disappear from restaurants, prepare to be disappointed. Like rock 'n' roll, they are here to stay. 
This is bad news for me: I hate phones in restaurants. The worst thing about the modern mobile era is the absence of a cord with which to strangle their inconsiderate users. I once inquired into buying a jamming device because I was tired of listening to the inconsequential conversations of people I don't know and don't want to know. It turns out they are illegal (phone jammers, that is, not inconsequential conversations.)
Anyway, while my views are hardly unique, they do seem to put me on the wrong side of a trend. As mobile phones spread throughout the late 1990s and early 2000s it became ever more common to find diners interrupting their meals to make or receive calls. Today, with fewer of us using our phones to talk and a sharp increase in photo and social media usage, attitudes among restaurateurs are changing with the times.
A Bloomberg survey of 20 of the worlds's leading chefs and restaurateurs – from New York to Sydney, London to Lima – shows that many now welcome the use of the cameras to show off dishes on social media.
Others fret that phones get more attention than food. But the majority seem to echo the view of Gaston Acurio, chef-patron of Astrid & Gaston in Lima, Peru: 
We don't like much the idea of everybody using their phones in the restaurant, either for talking or photos, but we like the idea of telling customers what to do even less. 
Here's the view from some of the world's finest restaurants, whose owners hold about 50 Michelin stars between them:

"Cuisine is a feast for the eyes, and I understand that our guests wish to share these instants of emotion through social media - Instagram for instance.
– Alain Ducasse, chef
"Anytime one guest's phone invades the space of of another guest it's too much. But when guests use their phones for discreet texting or emailing, or better still, as a camera to photograph something they loved and promote our restaurant via social media, who are we to complain?"
– Danny Meyer, owner
"I'd say 80 percent or more of guests take pictures of the food. If it makes people happy, why not?"  
– Jonny Lake, head chef
"Phones are part of going to a restaurant today: Most people are texting or taking photos, which doesn't bother anyone. Look at all the food pictures on Instagram. I do the same thing myself."
– Jean-Georges Vongerichten, chef-patron

"We used to say on the menu no mobile phones or cameras, but things have changed: We have ended up being more tolerant. I even see very famous people taking selfies with their guests. But if anyone starts a conversation on their mobile phone, we give them a little card asking them to move to the lobby."
– Fernando Peire, restaurant director
Nobu, New York and London
"We're fine with phones. No rules, no worries."
– Drew Nieporent, co-owner
"The whole world is guilty of using phones but smart people know how to handle it: You barely notice when they photograph the food. But if guests want a picture with the chef, we take them into the kitchen."
– Daniel Boulud, chef-patron
"It's written on the menu that we ask guests not to use mobile phones. And if somebody's phone goes off, we look at them as if to say: 'Switch that off or it goes in the ice bucket.' Most people look embarrassed, which is natural. It is called manners. I don't mind people taking pictures. I've been known to do it myself."
– Michel Roux Jr., chef-patron
"Mobile phones are such a huge part of life. It would be silly to start imposing restrictions."
– Nuno Mendes, executive chef

Balthazar, New York and London
"In general, if someone's on the phone more than five minutes, we kindly ask them to continue the call outside."
– Keith McNally, owner
"Telephone conversations put you in a business environment and stress other guests. But we are fine when people take pictures."
– Raymond Blanc, chef-patron
"We have a couple of places in the restaurant where we encourage people to take calls if need be, but it almost never happens."
– Will Guidara, co-owner 
"It's sad that so many people are on their phones messaging and hardly talking to each other, but it's not my business. We just want people to be happy."
– Shimon Bokovza, owner
"Social media changed everything. It's acceptable now to pull out your phone and start taking pictures. Ten years ago that just wasn't OK." 
– Simon Rogan, chef-patron
"We don't have any rules but I am finding it increasingly intrusive. Couples are dining without engaging with each other, let alone the restaurant."
– Mark Best, chef & owner
Fäviken, Järpen, Sweden 
"Sometimes, I remind people to actually have their experience of eating their food if they spend too much time photographing it."
– Magnus Nilsson, chef-patron
"It's nice when people post pictures on social media. The restaurant looks good."
– James Lowe, chef-patron
"Most people nowadays understand basic phone etiquette.  We rarely have an issue."
– Claude Bosi, chef-patron
"It's weird when people sit looking at their phones during meals. But we've benefited from pictures on Instagram and Twitter, so I am biting the hand that feeds me if I criticize mobile phones."
– Oliver Milburn, co-owner

Richard Vines is Bloomberg's chief food critic. Follow him on Twitter @richardvines
Before it's here, it's on the Bloomberg Terminal.
LEARN MORE