Sprint Investors Reassured by Gains in Cash, Subscribers
By and
Cash and equivalents increase 12 percent to $2.2 billion

Carrier's stock and bonds advance in New York trading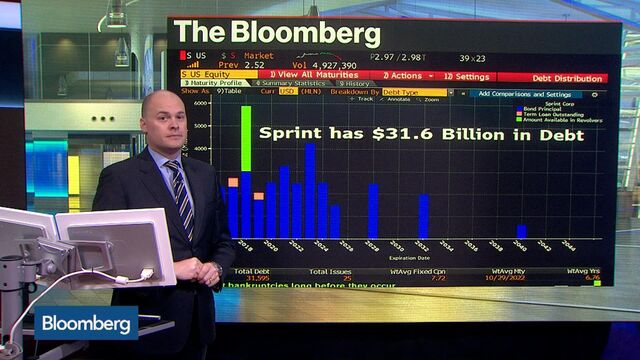 Sprint Corp.'s path to recovery is a little clearer now, with a smaller-than-estimated quarterly loss and a higher cash balance giving a lift to investors and bondholders after a harrowing week.
Sprint, which had been hemorrhaging cash over the past year, was able to increase its cash and equivalents by almost 12 percent to $2.2 billion in the fiscal third quarter, which ended Dec. 31. That helped drive up shares and bonds Tuesday, gaining back ground after hitting multiyear lows on Jan. 20.

The net loss of 21 cents a share, compared with analysts' average projection of 26 cents, helped overshadow shortfalls in sales and total subscriber gains compared with estimates. And the company increased its profit forecast, calling for earnings before interest, tax, depreciation and amortization of $7.7 billion to $8 billion in fiscal 2016, compared with a previous outlook for $6.8 billion to $7.1 billion.
The report, while not phenomenal, helped soothe wary investors, said Dave Novosel, an analyst at Gimme Credit LLC.
"The good news is the liquidity is fine certainly for the near term," Novosel said.
Sprint's stock surged as much as 22 percent to $3.08 in New York, and traded up 19 percent to $2.99 at 12:48 p.m. The carrier's $4.25 billion of 7.875 percent bonds due in 2023 rose 1 cent to 67.5 cents on the dollar at 12:45 p.m., according to Trace, the bond-price reporting system of the Financial Industry Regulatory Authority. Earlier, they reached 71.7 cents on the dollar in the biggest intraday gain since November 2014.
Chief Financial Officer Tarek Robbiati said on a conference call Tuesday that Sprint expects to fund all its corporate debt due over the next year. The company has $2.3 billion in debt to either repay or refinance this year and almost $12 billion over the next five years.
The phone carrier proved the doomsayers wrong, though it still has a long way to go, said Kevin Roe, with Roe Equity Research LLC.
"At this point, viability is how people think about this company," Roe said. "They are not out of the woods; this is still a high-risk story."
Sales were $8.11 billion, missing the $8.24 billion average of analysts' projection
Sprint added 501,000 monthly subscribers, compared with the 521,000 average of five analysts surveyed by Bloomberg
Average revenue per user was $52.48, compared with $52.26 analysts predicted.


After converting its phone inventory into a financing mechanism through a sale-and-lease arrangement, Sprint said it's now working on a new source of financing from its network equipment. The deal could provide $3 billion to $5 billion in incremental funding in its fiscal 2016.
The carrier is also aiming to cut $2 billion to $2.5 billion in costs. The company will eliminate 2,500 jobs, a person with knowledge of the matter said Monday. Expenses fell 28 percent in the fiscal third quarter from year earlier, with reductions in phone-related costs and selling, general and administrative expenses.