U.S. Stocks Rise Amid Earnings as Energy Shares Rebound With Oil
by
Federal Reserve officials begin two-day policy meeting

P&G, 3M, J&J earnings help equities recover Monday's losses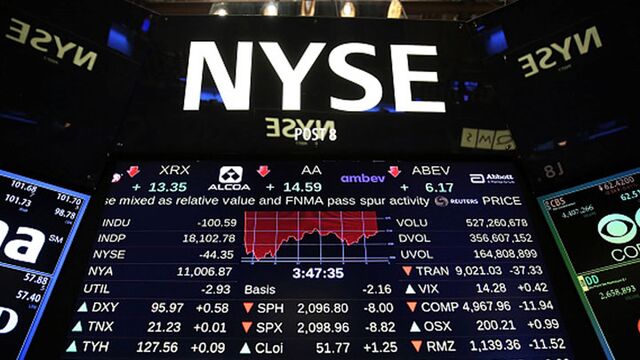 U.S. stocks rallied, with the Dow Jones Industrial Average posting its strongest gain in more than seven weeks, amid better-than-forecast earnings from companies ranging from 3M Co. to Coach Inc. while energy shares rebounded with oil after a selloff Monday.
Proctor & Gamble Co., 3M and Johnson & Johnson rose at least 2.5 percent after their quarterly profits beat analysts' estimates. Sprint Corp. surged 19 percent after posting a smaller-than-estimated loss and gaining subscribers for a fifth straight quarter. Coach climbed the most since 2010 after raising its full-year earnings outlook, and Chevron Corp. gained 4 percent as energy shares led the rally. Apple Inc. was little changed in late trading after its earnings report.
The Standard & Poor's 500 Index added 1.4 percent to 1,903.63 at 4 p.m. in New York, recovering from a 1.6 percent drop yesterday. The Dow gained 282.01 points, or 1.8 percent, to 16,167.23. The Nasdaq Composite Index increased 1.1 percent. About 7.9 billion shares traded hands on U.S exchanges, 4.3 percent above the three-month average.
"Crude oil has done well today, that's probably what's responsible for this rally," Michael Antonelli, an institutional equity sales trader and managing director at Robert W. Baird & Co. in Milwaukee, said by phone. "It comes down to what energy is doing and it has for a while. Earnings have started to ramp up, so that could be helping today as well. We need to see crude oil spend a month sideways and it's just not happening yet."

Tuesday's rally provided a reprieve for the S&P 500, which remains on track for its worst January since 2009 as a plunge in oil prices exacerbated worries that China's slowdown will weigh on global growth. Better-than-forecast earnings reports and economic data today helped soothe some of those concerns, while Federal Reserve officials gathered in Washington for a two-day policy meeting.
Policy makers are widely expected to leave rates steady, though investors will be scouring Wednesday's statement for hints officials are backing away from the path of four rate increases in 2016. Signals last week that central banks in Europe and Japan stand ready to boost stimulus to tamp down market volatility fueled a flight to risk assets after equities had the worst two-week start to a year on record.
Fed officials have emphasized that the course for rates depends on progress in the economy. A report today showed home prices in 20 U.S. cities rose at a faster pace in the year ended November, underscoring the shortage of supply amid steady demand. Separate data showed consumer confidence improved in January to a three-month high as Americans grew more upbeat about the prospects for the economy, labor market and their incomes.
The S&P 500 has lost 8.2 percent since the Fed raised borrowing costs last month for the first time in nearly a decade. The probability of a rate increase this week has stayed low after the December liftoff, and chances the Fed will raise in March have fallen to less than one-in-four from even odds at the start of the year.
Traders are also watching corporate earnings results for a read on the strength of the economy. Of those S&P 500 members that have already posted results, 80 percent beat earnings projections while 50 percent exceeded sales forecasts. Analysts estimate profit at firms in the index fell 6.3 percent in the fourth quarter, better than predictions a week ago calling for a 7 percent slump.
Apple Results
Apple slipped 0.2 percent as of 5:12 p.m. after forecasting a sales decline for the first time in more than a decade. Sales and iPhone shipments fell short of projections in the quarter ended in December, reinforcing concerns that Apple is reaching the limits of iPhone growth. The company's profit beat analysts' forecasts.
"I think the strong housing numbers are showing that the United States, while not an island, is fairly well insulated from any slowdown in China," said Brian Jacobsen, chief portfolio strategist at Wells Fargo Advantage Funds, by phone from Menomonee Falls, Wisconsin. "If we can see the good earnings continue and numbers that beat expectations, and more importantly, constructive guidance, that could help us maintain some independence from the Chinese market."
3M saw its best rally in four years, boosting the industrial group, after the maker of Post-it notes and Scotch tape cut costs to fight the effects of a strong dollar. J&J also jumped the most since 2011 after its earnings were helped by sales of blockbusters like arthritis treatment Remicade and psoriasis drug Stelara.
The Chicago Board Options Exchange Volatility Index fell 6.8 percent today to 22.50, after an 8 percent jump on Monday. The measure of market turbulence known as the VIX remains on pace for its biggest monthly gain since August.
All of the S&P 500's 10 main industries were higher, reversing Monday's across-the-board retreat. Energy companies, the worst performers yesterday, surged 3.8 percent. The group has swung at least 2.1 percent in either direction for eight consecutive sessions. Phone companies, industrial, raw-material and financial shares all gained more than 1.7 percent.
Energy Rebound
Chesapeake Energy Corp. rose 8.1 percent, after leading energy producers lower yesterday with its biggest drop in more than seven years. Devon Energy Corp. and Range Resources Corp. increased more than 7.8 percent. West Texas Intermediate crude futures rose 3.7 percent, trimming an earlier 6.8 percent jump, after slumping nearly 6 percent yesterday. Iraq's oil minister said at a conference in Kuwait that Saudi Arabia and Russia are now more flexible about cooperating to cut output.
Banks in the benchmark snapped back from 26 month lows. Zions Bancorporation rose 4.2 percent and briefly reversed Monday's 5.2 percent drop, while Bank of America Corp. climbed 2.7 percent. Huntington Bancshares Inc. was the only loser, falling 8.5 percent after agreeing to acquire smaller rival FirstMerit Corp. for $3.4 billion in cash and stock and saying it will take more than five years to rebuild capital spent on the deal.
An index of trucking companies surged the most since October 2011, with Heartland Express Inc. and Ryder System Inc. rising more than 7.4 percent. Heartland reported quarterly earnings in line with analysts estimates. Swift Transportation Co. rallied 21 percent, the biggest in two years, after its earnings beat forecasts. The Dow Jones Transportation Average capped its strongest gain in more than four months.
With data showing Americans feeling better about the economy, a swath of consumer companies from apparel makers to homebuilders were among the session's strongest performers. Lennar Corp. increased 4.8 percent its steepest gain in a year. Hanesbrands Inc. and Michael Kors Holdings Ltd. advanced more than 2.8 percent.
Corning Inc. rose 5.7 percent, the best in more than two years. The specialty glassmaker's fourth-quarter profit and sales beat estimates, while the company said it expects the first quarter will be 2016's weakest with growth recovering as the year progresses.
Polaris Industries Inc. fell 9.2 percent, the most in five weeks after the snowmobile and all-terrain vehicle maker's 2016 outlook missed analysts' forecasts. Arctic Cat Inc. sank 7.3 percent to a five-year low, and Harley-Davidson Inc. slipped 3.8 percent to the lowest since December 2011.
Before it's here, it's on the Bloomberg Terminal.
LEARN MORE