Puerto Rico to Present Broad Debt-Restructuring Plan Friday
by
Proposal may contain bondholder losses and payment delays

Commonwealth is seeking to lower its $70 billion debt stack
Puerto Rico plans to meet with creditors on Friday and present a long-awaited proposal that would inflict losses on bondholders as the commonwealth seeks to reduce a $70 billion debt burden that island officials call unsustainable, according to two people familiar with the discussions.
The proposition will be the first glimpse of the degree of debt reduction Puerto Rico is seeking from bondholders or the amount of time the island would like to suspend certain payments. Also in question is how the commonwealth will treat the obligations sold through 17 issuers, each backed by various revenue pledges and legal protections. While the island's constitution states its general-obligation bonds must be repaid first, the commonwealth's sales-tax receipts go straight to repaying bonds backed by that revenue stream.
Puerto Rico advisers will meet with financial consultants and lawyers for the different bondholder groups and present the debt-restructuring plan, according to the people, who asked for anonymity because the negotiations are private. Investors are pleased the commonwealth asked for the meeting after Puerto Rico postponed earlier appointments this month, the people said.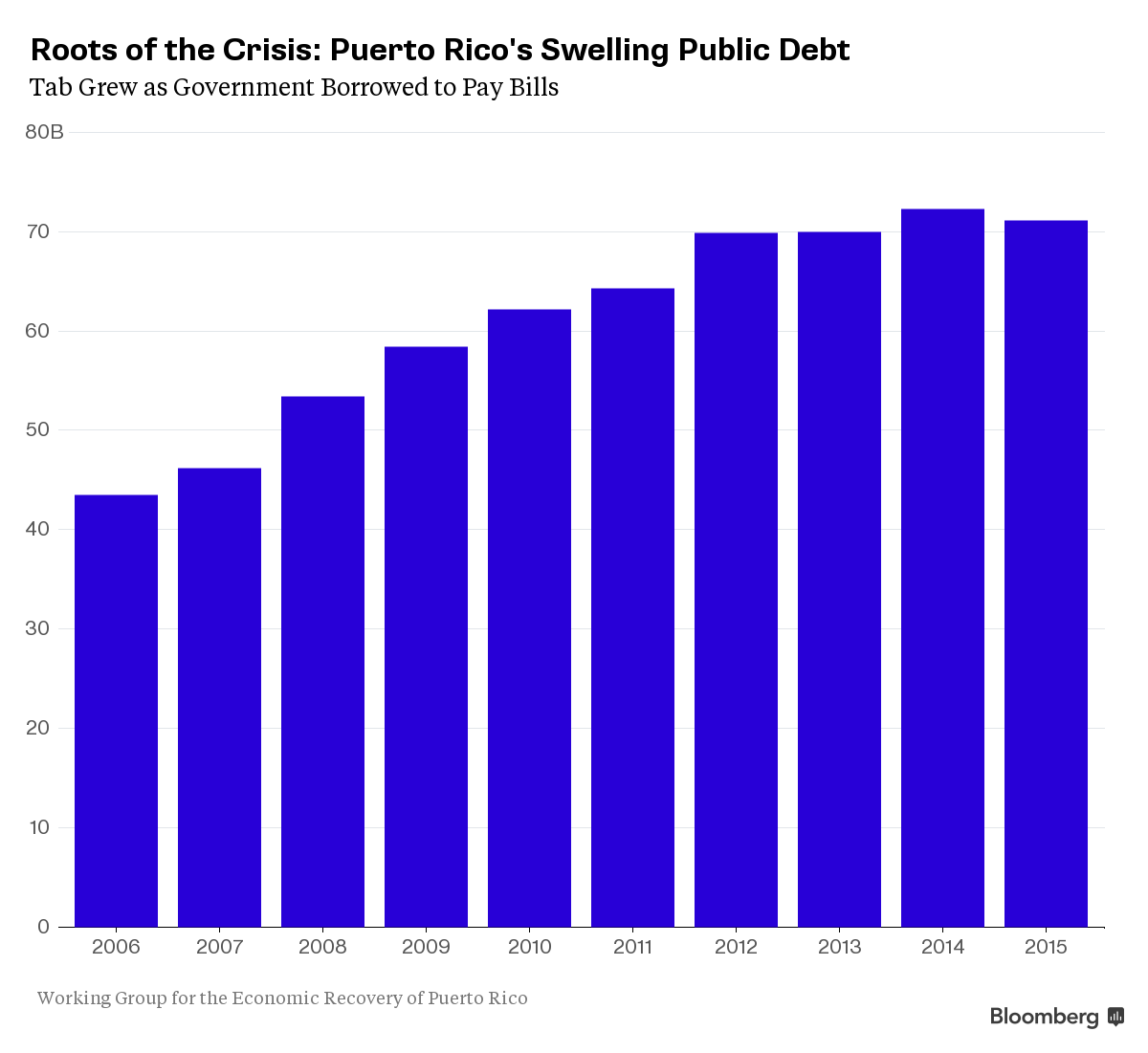 Last week island officials said the commonwealth will fall short $23.9 billion over the next decade in repaying principal and interest, according to an updated fiscal and economic growth plan. The payment deficit widened to $16.06 billion for the next five years, up from a $14 billion estimate in September.
Bondholders are expecting payments as soon as May, when the Government Development Bank owes $422 million. Puerto Rico and its agencies face a $2 billion principal and interest payment July 1. Governor Alejandro Garcia Padilla in June said the island was unable to repay all of its obligations on time and in full and would seek to reduce its debt load.
Puerto Rico general obligations with an 8 percent coupon and maturing July 2035 traded Tuesday at 70.5 cents on the dollar, for a yield of 11.9 percent, data compiled by Bloomberg show. The debt traded at about 84 cents a year ago.
Before it's here, it's on the Bloomberg Terminal.
LEARN MORE