Philips Earnings Beat Estimates on Jump in Medical Orders
By
CEO says deal for LumiLeds may come in the second half

Quarterly margins in healthcare widened by 100 basis points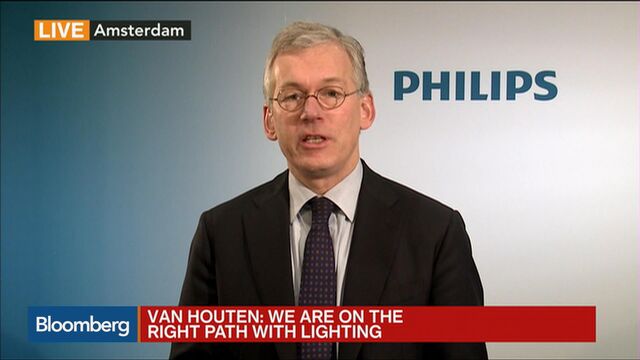 Royal Philips NV's profit rose more than estimated on growth in medical equipment, helping Chief Executive Officer Frans van Houten bolster his case for exiting the lighting-gear business that is the foundation of the 125-year-old Dutch company.
Demand in China and North America for body scanners helped drive up quarterly orders by 15 percent at comparable exchange rates, almost double the pace Siemens AG registered in the same three months through December. Adjusted earnings before interest, taxes and amortization rose 13 percent to 842 million euros ($913 million), the Amsterdam-based company said in a statement Tuesday. Analysts predicted 798 million euros.
"You see the improvements he promised really coming through," Marc Hesselink, an analyst for ABN Amro, said by phone, pointing to the orders tally. Philips shares jumped as much as 8.4 percent, the steepest climb since July 2012.
Van Houten predicted 2016 will bring further "modest" sales growth, with "low single digit" growth in the global healthcare market. He's budgeting for medical equipment to grow into a $125 billion industry on increasing demand for technology that allows hospitals to analyze clinical data, and patients to monitor health and nutrition on smartphones.



Shares of Philips rose 5.2 percent to 23.91 euros at 11:13 a.m. in Amsterdam, valuing the company at 22.3 billion euros.
Faced with stiffer competition from Chinese manufacturers, both Philips and Siemens have sought to streamline costs, add on servicing agreements and incorporate more technology into their health-care products and contracts to extend their value. Philips' margin in health care widened by 100 basis points to 15.8 percent, it said. Siemens CEO Joe Kaeser said today he will do "anything" to improve his company's health-care unit. General Electric Co.'s healthcare systems orders were down 1 percent, hurt by lower molecular imaging and x-rays.
"Our medical engineering segment delivered a very strong quarter on all levels," Kaeser said at a press conference today. "This can be seen especially clearly through a comparison with our competitors."
Philips also benefited from a ramp up in production at its Cleveland site. Van Houten expects the recovery of its CT-scanner factory in Cleveland to contribute an additional 100 million euros to adjusted Ebita this year, and another 75 million euros next year, after a prolonged turnaround of the facility led to a backlog of orders, he said on a call with investors.
Lighting
Plans to separate the lighting division in the first half are on track, and Philips said it's "actively engaging" with other potential bidders for a lighting components unit after a planned sale to a Chinese company was blocked by U.S. regulators.
Private equity firms showed interest in the lighting division that could be worth about 5.5 billion euros, people familiar with the situation have said. Some of the bidders may also be interested in the LumiLeds components unit, they said. KKR & Co., CVC Capital Partners and Bain Capital Partners unsuccessfully bid for LumiLeds in March.
For LumiLeds, a deal may come in the second half, the CEO said, adding that there's a risk that the value of the transaction will come down. Lighting will be sold or listed separately, rather than recombined with LumiLeds, he said.
Group sales gained 8 percent to 7.1 billion euros, in line with estimates. Philips reported a net loss of 45 million euros, weighed down by pension charges.