PBOC's Flood of Cash Keeps Money Rates in Check Before Holiday
Bloomberg News
Central bank conducts most reverse repos in three years

Net cash additions this month total about 1.6 trillion yuan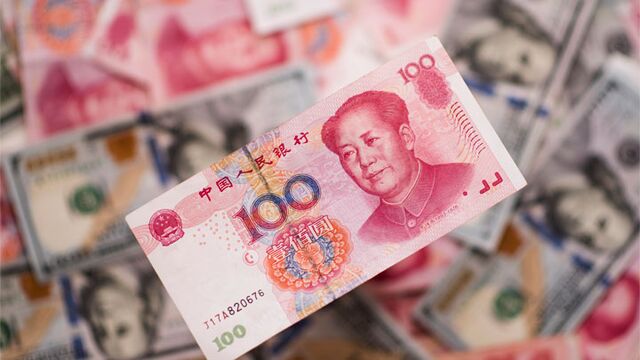 China's central bank is flooding the financial system with cash to keep borrowing costs in check as demand for funds surges before the Lunar New Year holiday.
QuickTake China's Managed Markets
The People's Bank of China added 440 billion yuan ($67 billion) using reverse-repurchase agreements on Tuesday, the most in three years, bringing net injections via its various lending tools this month to about 1.6 trillion yuan. Overnight and seven-day rates for loans between banks held near one-week lows as the fresh money boosted liquidity. The Lunar New Year celebrations will shut banks for the week starting Feb. 8 and so cash needed to pay for the associated travel, feasts and gifts needs to be obtained in advance.
Policy makers are trying to keep borrowing costs from rising as they contend with the slowest economic growth in a quarter century and record capital outflows. That task is being complicated as they also seek to stabilize the yuan after the currency's slide to a five-year low roiled global financial markets in the first week of the year. The PBOC's growing use of short-term lending tools led to expectations for cuts in lenders' reserve-requirement ratios being scaled back over the past month, a Bloomberg survey shows.
"The PBOC remains reluctant to conduct system-wide easing, such as RRR cuts across the board, on the back of depreciation concerns and huge new loans in the first couple of weeks of the year," said Becky Liu, senior rates strategist at Standard Chartered Plc in Hong Kong. "The large amount of cash shows its firm determination to maintain accommodative money-market conditions, and to use short-term tools to boost liquidity."

The overnight repurchase rate, a gauge of funding availability in the interbank market, rose one basis point to 1.97 percent as of 4:30 p.m. in Shanghai, a weighted average from the National Interbank Funding Center shows. It climbed to 2.18 percent on Jan. 20, the highest since April. The seven-day repo rate gained one basis point to 2.30 percent.
The central bank plans to arrange 1.6 trillion yuan of short-term funds and as much as 800 billion yuan of medium-term liquidity support, according to the transcript of a PBOC meeting posted on Sina.com Friday. Guotai Junan Securities Co. estimated cash demand will surge by about 3 trillion yuan in the run-up to the Lunar New Year.
The PBOC auctioned 360 billion yuan of 28-day reverse-repos and 80 billion yuan of seven-day contracts on Tuesday. That's the biggest one-day offering since February 2013. The interest rates were unchanged at 2.6 percent and 2.25 percent, respectively.
Liquidity Injections
The PBOC has pumped in a net 905 billion yuan via open-market operations so far this month, and 612.5 billion yuan through its Medium-term Lending Facility, data compiled by Bloomberg show. It auctioned 80 billion yuan of treasury deposits on behalf of the Ministry of Finance last week, a further injection of liquidity into the banking system. The monetary authority also told lenders to cancel repos at interest rates it deemed too high, according to people familiar with the matter.
As the central bank's lending facilities bear the brunt of monetary easing, expectations are moderating for cuts in the proportion of deposits lenders need to set aside, according to a Bloomberg survey published Tuesday. The reserve-requirement ratio for major lenders is seen dropping to 15.5 percent this year from 17.5 percent, a smaller decline than the move to 17 percent predicted a month earlier.
PBOC Assistant Governor Zhang Xiaohui told leaders of five of the nation's biggest banks they had lent out too much cash in the first half of this month, more than 1.7 trillion yuan, and that they had to slow the lending, South China Morning Post reported Sunday, citing the minutes of a gathering of executives and PBOC officials.
"Increased onshore borrowing has lifted up the funding demand in the market as well, which has also somewhat tightened up onshore liquidity conditions," said Zhou Hao, an economist at Commerzbank AG in Singapore. "It appears that Chinese corporates have repaid some of their offshore dollar borrowing, and turned to the onshore market for yuan funding."
— With assistance by Helen Sun
Before it's here, it's on the Bloomberg Terminal.
LEARN MORE