One Salmon Costs More Than Barrel of Oil as Slump Deepens: Chart
by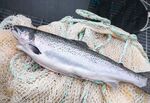 Odd things happen during selloffs.

Western Europe's biggest oil producer is suffering from the collapse in crude prices. But another top commodity export in Norway, salmon, is fetching record-high prices because of low supplies and a weak currency. As the seafood-industry news site iLaks.no reported this month, oil has fallen so low and salmon risen so high that one standard, 4.5 kilogram fish now costs more than a barrel of crude, measured in kroner.
Before it's here, it's on the Bloomberg Terminal.
LEARN MORE