Offshore Yuan Pares Loss on Bets PBOC Intervened as Stocks Fell
Bloomberg News
Shanghai Composite Index slides to lowest since December 2014

Yuan confidence still fragile after investors shaken: Goldman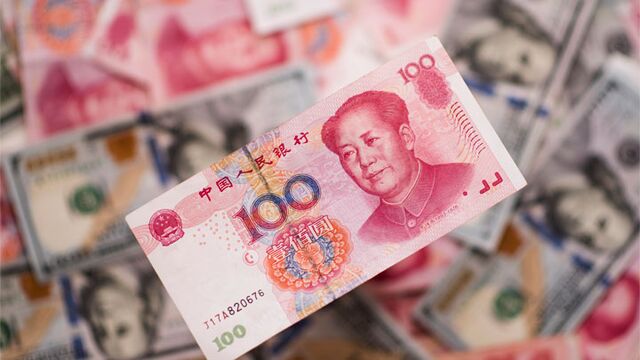 The offshore yuan rebounded in Hong Kong, stoking speculation that China's central bank propped up the currency after equities plunged to a 13-month low.
The exchange rate erased a 0.16 percent loss in 15 minutes after its discount to the onshore currency widened to 0.6 percent. Major Chinese banks were seen selling dollars in the afternoon, according to traders who asked not to be named. The Shanghai Composite Index of equities slumped as much as 6.6 percent on renewed concern that capital outflows will accelerate as the economy slows.
"The move has all the hallmarks of intervention," said Sue Trinh, the Hong Kong-based head of Asia foreign-exchange strategy at Royal Bank of Canada. The offshore yuan dropped earlier as there has been "a classic risk-off move across all markets, as oil slumped anew and Shanghai stocks plunged," she said.
The offshore yuan was down 0.03 percent at 6.6117 a dollar as of 4:53 p.m. in Hong Kong on Tuesday, after dropping to 6.6203 earlier, data compiled by Bloomberg show. It erased losses, trading little changed at 6.6097 by 4:16 pm in London. The onshore exchange rate fell 0.04 percent to 6.5818, according to China Foreign Exchange Trade System prices. The People's Bank of China keptits daily fixing little changed from Monday at 6.5548.
Speculators Warned
Yuan speculators entering short positions are expected to "suffer huge losses" as policy makers will take measures to stabilize the currency, the official Xinhua News Agency said in a commentary on Saturday. Reckless speculation and vicious shorting of the yuan will face higher trading costs, possibly with severe legal consequences as the government improves regulatory mechanisms, Xinhua said.
There's simply no basis for the yuan to devalue over the long term and China doesn't have such a policy as the economy has been robust, according to another Xinhua commentary published Tuesday. Chinese authorities have tightened capital controls to stem outflows, with the measures including suspending foreign banks from conducting some cross-border business until March and imposing reserve-requirement ratios on yuan deposited onshore by overseas financial institutions.
Soros' War
Billionaire investor George Soros' "war" against China won't succeed, Mei Xinyu, a researcher at China's Ministry of Commerce, wrote in a commentary on the front page of the overseas edition of the People's Daily Tuesday. Soros, who built a $24 billion fortune through savvy wagers on markets, said he's been betting against Asian currencies and that China's economy is headed for a hard landing.
Outflows from China increased to $158.7 billion in December, the most since September and were $1 trillion last year, according to estimates from Bloomberg Intelligence. That's more than seven times the amount of cash that left in 2014. Sentiment on the yuan is still fragile and any major shocks to confidence, along with policy uncertainty, could significantly compound outflows, Goldman Sachs Group Inc. economists led by MK Tang wrote in a note. The bank predicts the onshore yuan will weaken to 7 a dollar in 2016, more bearish than the median forecast of 6.75 in a Bloomberg survey.
"We suspect that it's the PBOC," said Andy Ji, a Singapore-based foreign-exchange strategist at Commonwealth Bank of Australia, referring to Tuesday's rebound in the offshore yuan. "They've made it clear that they don't like speculators and will make it costly for them."
— With assistance by Tian Chen
Before it's here, it's on the Bloomberg Terminal.
LEARN MORE