MGM China Said to Get Approval to Amend $3 Billion Loan
by , , and
Company receives consent from lenders before Jan. 29 deadline

Casino companies are suffering from declining revenue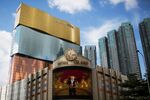 MGM China Holdings Ltd. received consent from banks to amend the terms on its HK$23.4 billion ($3 billion) loan as the declining fortunes of Macau's gambling houses are making it difficult for companies to meet their lending requirements, people with knowledge of the matter said.
The Macau unit of MGM Resorts International, the largest casino company on the Las Vegas Strip, has received approval from two-thirds of its lenders to relax its financial conditions, including loosening covenants on its leverage ratio, according to people, who are asked not to be identified because they aren't authorized to speak publicly. The consent came before a Jan. 29 deadline.
MGM China was seeking to raise the maximum total leverage it's allowed to 6 times from the second quarter of 2016 until the same period in 2017, the people said. The original agreement was 4 times after the first anniversary of the opening of its new casino on the developing Cotai gambling district, they said. MGM Cotai is scheduled to open in the fourth quarter of this year.
The approval came two months after a Melco Crown Entertainment Ltd. joint venture received consent from banks to amend the terms on its HK$10.85 billion loan for the Studio City resort that started operations in October last year.
The approved covenants include changing the project's opening date condition from 400 to 250 tables, consequential adjustments to the financial covenants, and rescheduling the commencement of financial covenant testing, according to a filing to the Securities and Exchange Commission in November.
Macau saw gaming revenue dropping 34 percent in 2015 after China's economic slowdown and anti-corruption campaign deterred high rollers from betting at the city's casinos. Gambling takings have fallen for 19th straight month and are set to decline further before rebounding in 2017.
Before it's here, it's on the Bloomberg Terminal.
LEARN MORE