McDonnell Presses Osborne Over Google's `Derisory' U.K. Tax Deal
by
Labour finance spokesman writes to Osborne for clarification

London Mayor Johnson blames tax system for low settlement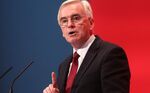 The dispute over Google Inc.'s tax settlement with the U.K., which was lauded as a victory by the Treasury but dismissed as "derisory" by opposition lawmakers, deepened Tuesday after Labour finance spokesman John McDonnell demanded to know if Chancellor of the Exchequer George Osborne personally signed off the deal.
McDonnell wrote to the chancellor saying questions remain unanswered over Google parent Alphabet Inc.'s agreement to pay 130 million pounds ($185 million) in tax. The letter followed his claim on Monday that the Treasury agreed a "sweetheart deal" with the company, which has faced criticism across Europe for using innovative tools to keep its tax rates low.
"This deal with Google raises a number of important issues about the tax treatment of large companies in the U.K.," McDonnell said in the letter, which he chose to make public. "When times are tough it is more important than ever that everyone pays -- and is seen to pay -- their fair share." He also asked if anyone from Osborne's private office met with Google or tax authorities before the arrangement was made public last week.
Osborne Pledge
Lawmakers have criticized British tax officials in the past for failing to challenge Google over its strategy of booking advertising sales through Ireland to reduce its tax liability in Britain. Companies such as Amazon.com Inc. and Starbucks Corp., have also been faulted for using tax loopholes and Osborne pledged in 2014 to block the practices.
Google has avoided billions of dollars of income taxes around the world by using a pair of shelter strategies known to lawyers as the "Double Irish" and "Dutch Sandwich," as reported by Bloomberg in October 2010.
Osborne initially described the Google settlement as a "victory" for the Treasury's push to reform tax. Within days, he was facing a backlash from the opposition, but also from within Conservative ranks. London Mayor Boris Johnson, a potential rival for Osborne in the race to succeed David Cameron as prime minister, said it was "absurd" to attack Google over the settlement because "you might as well blame a shark for eating seals."
'Fair Whack'
Johnson instead criticized the government for not extracting enough money, saying, in an article for the Telegraph newspaper on Monday, that "the fault in the whole affair lies with our national arrangements -- our own system for not getting a fair whack from the tech giants."
Financial Secretary David Gauke defended the government's position in an unscheduled parliamentary debate on Monday and denied the U.K. is giving Google and other multinational companies special treatment over tax. The debate, which was called by Labour, failed to answer lawmakers' doubts over the deal, McDonnell said.
Further questions were prompted by reports in the Times newspaper that France is seeking a much larger tax payment from Google.
Cameron's office rejected suggestions the settlement was too small. Spokesman Christian Cubitt told reporters on Tuesday that the premier and the chancellor were "of the same mind on this."
"The U.K. has been international leader on tackling international tax planning and evasion," Cubitt said. "We continue to work tirelessly in this area to ensure that the tax that is owed is paid."
The tax agency "has a very clear strategy in place here," he said. "They cannot settle for something less than they expect to get in a court case."
Before it's here, it's on the Bloomberg Terminal.
LEARN MORE