China Resists Kerry Appeal for Tougher North Korea Sanctions
Bloomberg News
Agreement to pursue new UN resolution against Kim lacks detail

Response to bomb test shouldn't destablize N. Korea, Wang says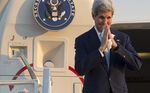 Secretary of State John Kerry failed to secure China's support for tougher sanctions against North Korea in the wake of its fourth nuclear bomb test earlier this month, with the two sides agreeing only to pursue a new UN Security Council resolution.
Kerry and Chinese Foreign Minister Wang Yi announced the commitment Wednesday after meeting in Beijing to discuss a stronger response to Kim Jong Un's nuclear bomb test earlier this month. While the U.S. is seeking measures like bans on oil exports to China's neighbor and imports of North Korean mineral resources, China is emphasizing the importance of returning to the negotiating table.

"Our position will not be swayed by specific events or the temporary mood of the moment," Wang told reporters in Beijing, adding that a "new resolution should not provoke new tension in the situation or destabilize the Korean Peninsula." Sanctions are not "an end to themselves," he said.
The visit comes three weeks after North Korea defied international warnings and detonated what it said was a hydrogen bomb at a test facility near the Chinese border. While China has joined Japan, South Korea and the U.S. in renewing calls for Kim to abandon his nuclear weapons program, Beijing has resisted sanctions that could topple Kim or lead to a total breakdown in ties between the Cold War-era allies. Instead, China's wants to resume talks to eliminate the nuclear threat, a goal that Kerry said the U.S. shared.
'Meaningful Steps'


"It's not enough to agree on the goal," Kerry said. "We believe we need to agree on the meaningful steps necessary to get to the achievement of the goal, to the negotiations that result in denuclearization."
The nuclear issue dominated the meeting between the two, Kerry said. The discussions were "long and intensive" and the reason for the almost three-hour delay in the start of the news conference, he said.
With the Korean dispute deteriorating since six-party disarmament talks broke down in 2009, the U.S. has ratcheted up pressure on China, which wields a Security Council veto and supplies most of North Korea's food and energy imports. Kerry told Wang in a Jan. 7 telephone conversation that China's preferred approach had failed and needed to change.

Kerry's arrival follows a similar Beijing visit by Deputy Secretary of State Antony Blinken last week that ended without agreement. China could do more as "North Korea's lifeline, North Korea's patron" to influence the regime, a senior State Department official told reporters Sunday before Kerry's trip. Chinese Foreign Ministry spokeswoman Hua Chunying said Tuesday that some remarks by U.S. officials have been "unconstructive."
The Obama administration's proposals also include banning flights from North Korea's Air Koryo, which flies to and from Beijing, Kyodo News reported last Friday, citing an unnamed diplomatic official at UN headquarters. The U.S. wants stronger inspections of North Korean cargo, including goods that pass through China's northern port of Dalian, Japan's Asahi newspaper also reported.
"There is zero chance that Beijing would agree to the proposal," said Shi Yinhong, director of the Center on American Studies at Renmin University in Beijing and a foreign policy adviser to the State Council. "It would cause China to lose all flexibility in handling North Korea and would turn it to a permanently hostile state sitting on the Chinese border."
Target Areas
While Kerry declined to detail sanction proposals, he cited shipping, aviation and coal and fuel exchanges as potential target areas. "There are many different ways -- we think -- in which, non-punitive to the people of North Korea, but nonetheless effective, steps can be taken," said Kerry, who was expected to also meet Chinese President Xi Jinping,
Almost three years have passed since Kerry and State Councillor Yang Jiechi, China's top diplomat, announced a joint commitment in Beijing to stop Kim's nuclear weapons program after his previous atomic bomb test. Bank of China Ltd. subsequently closed the account of North Korea's Foreign Trade Bank, which the U.S. had accused of facilitating transactions linked to the North's weapons.
After the 2013 test, the Security Council also agreed to sanctions targeting "illicit activity" by North Korean diplomats, bulk transfers of cash, and banks and companies funneling funds or materials to support the country's ballistic missile and nuclear weapons programs.
"North Korea is the kind of country where sanctions would likely be counterproductive," said Shi Yuanhua, director of the Center for Korean Studies at Fudan University in Shanghai. "This has been proved in the past: more sanctions, greater defiance."
— With assistance by Ting Shi, and Kevin Hamlin
Before it's here, it's on the Bloomberg Terminal.
LEARN MORE