Junk Bonds in Europe Find Greater Losses From Brazil Than China
By and
Casino Guichard and Grupo Isolux among the worst performers

Latin American country heads toward deepening recession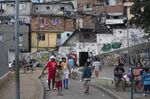 European investors focused on risks from China to the east should also be looking west.
More than half of the region's worst-performing junk bonds in euros over the past year were sold by companies with operations in Brazil, exceeding those with even indirect exposure to China, according to data compiled by Bloomberg. Bonds sold by French retailer Casino Guichard-Perrachon SA and Spanish engineering firm Grupo Isolux Corsan SA, both with links to Latin America's largest economy, are among 10 billion euros ($11 billion) of securities with the biggest losses.
European firms piled into emerging markets as they sought to mitigate the sovereign debt crisis at home. Brazil is now heading toward its deepest two-year recession in more than a century and a widening corruption scandal involving state-run oil producer Petroleo Brasileiro SA is undermining any political effort to revive growth.
"There's a sense that we haven't seen the bottom yet," said Jacob Rappaport, head of trading for the Americas at INTL FCStone Financial, a broker in New York. "When it comes to Brazil, it's a game of catching a falling knife."

European companies with operations in Brazil accounted for about 6.5 billion euros of the worst-performing junk bonds in the currency in the year through Jan. 21. That compared with 4.7 billion euros of notes belonging to firms exposed to plunging commodities prices  and, by extension, the turmoil in China. 
French grocer Casino Guichard's 750 million euros of hybrid bonds dropped to 71 cents on the euro last week from 104 cents a year earlier, according to data compiled by Bloomberg. Casino expanded operations in Brazil during the European debt crisis, recording about 10 percent growth each year between 2009 and 2012. Food inflation in the country has topped 10 percent for six straight months, slowing sales growth. 
"Brazil supported Casino's earnings while the economy was struggling in France, but now is the other way round," said Cyril Benayoun, a credit analyst in Paris at Exane Derivatives, which specializes in convertible bonds and options. "Everything has gone south in Brazil in the last two years and we still can't say that the worst is behind us."
Grim Outlook
Brazil's economy grew less than the euro area in 2014, the first time since 2001. The International Monetary Fund forecast a contraction of 3.5 percent this year and stagnation next, after a 3.8 percent recession in 2015. It cited Brazil's malaise as a key factor behind its downward revisions to the global economic outlook.
Companies with operations in Brazil and exposure to commodities are being squeezed on both sides.
Vallourec SA, which produces steel pipes for the energy industry, is suffering from the slowdown in oil services worldwide and the scandal at its client, Petrobras, which is set to reduce investments by $32 billion in the next five years. The company's 400 million euros of unsecured bonds due August 2019 dropped to 64 cents on the euro from 107 cents a year earlier. 
"The situation is tough for oil service providers, but the situation gets twice as complicated if you are dealing with Petrobras," said Adriano Pires, head of CBIE, a Rio de Janeiro-based energy and infrastructure consultant. "Petrobras has been trimming investments and contracts amid ballooning debt and the widest corruption scandal in Brazil's history."

Isolux, which invested in electric transmission lines and toll roads in Brazil, is now canceling projects and selling assets. Spanish renewable energy firm Abengoa SA is facing insolvency after failing to raise cash to cover its Brazilian projects.
"For a few years, Brazil was very attractive," said Christof Stegmann, fixed income portfolio manager for GAM Investment Management in Zurich, which oversees 124 billion Swiss francs ($122 billion). "The picture has changed a lot now with recession, political uncertainty and corruption scandals."