JPMorgan Cuts S&P 500 Forecast, Citing 'Earnings Recession' Risk
by
Strategist lowers 2016 year-end target to 2,000 from 2,200

U.S. stocks could see two years of flat to negative EPS growth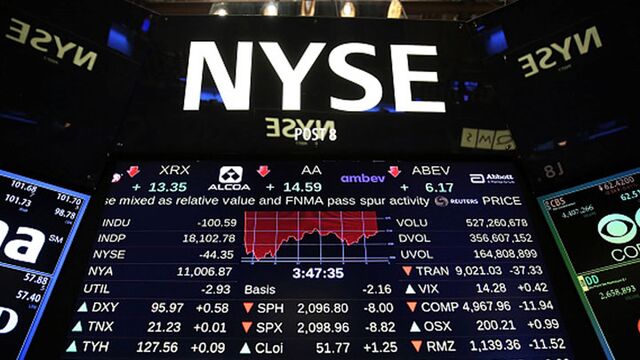 JPMorgan Chase & Co. cut its forecast for U.S. stocks by 9.1 percent, saying heightened market volatility could damage the broader economy and bring about an earnings recession.
Dubravko Lakos-Bujas, head of U.S. equity strategy at the firm, now sees the Standard & Poor's 500 Index ending the year at 2,000, down from a prior prediction 2,200. His new forecast makes JPMorgan the most bearish on American stocks among 19 firms tracked by Bloomberg. It implies a 6.5 percent increase from Monday's close and compares with the average of 2,200 by 18 other Wall Street peers.

"There is increasing risk that elevated volatility starts incurring enough technical damage to market psychology," a team led by Lakos-Bujas wrote in a note to clients on Tuesday. That could spill over and negatively affect business and consumer sentiment, "resulting in a lack of risk taking, and eventually creating a negative feedback loop into the real economy."
Stocks rallied Tuesday, with the S&P 500 adding 1.4 percent to 1,902.51 at 1:39 p.m. in New York, as investors weighed results from 3M Co. and Procter & Gamble Co. and data indicating that consumer confidence improved in January.
As of last week, the lowest call was 2,100, a projection shared by Bank of Montreal's Brian Belski, Goldman Sachs Group Inc.'s David Kostin, and Stifel Nicolaus & Co.'s Barry Bannister. JPMorgan is the fourth firm to cut its prediction for 2016, after volatility in equities prompted Deutsche Bank AG, Citigroup Inc. and RBC Capital Markets LLC to cut projections.
"While in the short term an expected pickup in buyback activity and positive fourth-quarter earnings surprises may provide some support to equities," the team wrote, "absent a positive central bank catalyst, we see equity risks skewed to the downside over the medium term."
U.S. stocks remain poised for their worst monthly performance since May 2010 as worries over China converged with slumping oil prices and speculation over how quickly the Federal Reserve will raise interest rates. Additional risks ahead include diverging central bank policies between Europe and the U.S., slowing U.S. manufacturing, weakness in China's economy, and widening credit spreads in the bond market, according to JPMorgan.
The JPMorgan team also trimmed expectations for profits, saying stocks in the S&P 500 will earn $120 a share, compared with his earlier $123 estimate. The S&P 500 is likely to post two straight years of flat to negative earnings growth, as the "risk of earnings recession is rising."
Analysts in a Bloomberg survey predict profits at S&P 500 companies fell 0.4 percent in 2015 and forecast an increase of 4.8 percent this year.
Before it's here, it's on the Bloomberg Terminal.
LEARN MORE