Hyundai Posts Lowest Profit in Five Years on China Slowdown
by
Carmaker forecasts slowest annual sales growth in 10 years

Hyundai's China sales fell for the first time since 2007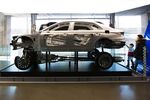 Hyundai Motor Co. posted its lowest annual profit in five years after a slump in China deliveries overshadowed gains in the U.S., Europe and South Korea.
Net income declined 13 percent to 6.42 trillion won ($5.3 billion) in 2015, the Seoul-based automaker said Tuesday. That compares with the 6.35 trillion won average of 27 analysts' estimates compiled by Bloomberg. Sales rose 3 percent to 92 trillion won.
Hyundai's profit fell for a third straight year and the automaker missed its annual sales target for the first time since 2008 after deliveries in China slumped and unfavorable exchange rates cut earnings in Russia and Brazil. The company has forecast sales growth this year will be the weakest since 2006 as it expects the economic slowdown to continue in China, its largest market by volume.
"You can say 2015 was a year of one bad news after another, to a point where it was almost depressing," said Lee Sang Hyun, an analyst at IBK Securities Co., before the earnings announcement. "This year, although there's hope that things may get better as demand picks up in China and unfavorable exchange rates in emerging markets calm down, it still isn't expected to be a huge improvement from the year earlier."

Profit in the three months through December fell for an eighth consecutive quarter to 1.63 trillion won, compared with estimated 1.6 trillion won.
Operating income slumped 19 percent to 1.52 trillion won, missing the 1.68 trillion won estimate.
Revenue was 24.8 trillion won in the period, versus 24.5 trillion won estimate.
Shares of Hyundai fell 0.7 percent in Seoul trading as of 2:14 p.m. The benchmark Kospi index slid 1.1 percent.
Deliveries in China declined last year for the first time since 2007 as a slowing economy and shift in consumer preferences to cheaper sport utility vehicles hurt demand for the automaker's sedan-heavy lineup. Plant sales in Russia and Brazil dropped 3.2 percent and 2.7 percent, respectively.
Sales in the U.S., its second-largest market, climbed 5 percent, while deliveries at home in South Korea, where it gets the highest profit margin, rose 4.2 percent, helped by demand for Tucson and Santa Fe SUV models.
The automaker is counting on the Genesis brand, which it spun off into a standalone luxury division in November, to reverse the decline in profit. Hyundai and its affiliate Kia Motors Corp. plan to expand their lineup of eco-friendly cars to meet the more stringent emission standards in markets including China. Sales of the Ioniq, Hyundai's first hybrid model developed from scratch, started earlier this month.
Before it's here, it's on the Bloomberg Terminal.
LEARN MORE