High-Speed Firms Now Oversee Almost All Stocks at NYSE Floor
By
GTS agrees to buy NYSE floor trading operation from Barclays

Joins Virtu Financial, KCG Holdings and IMC at NYSE floor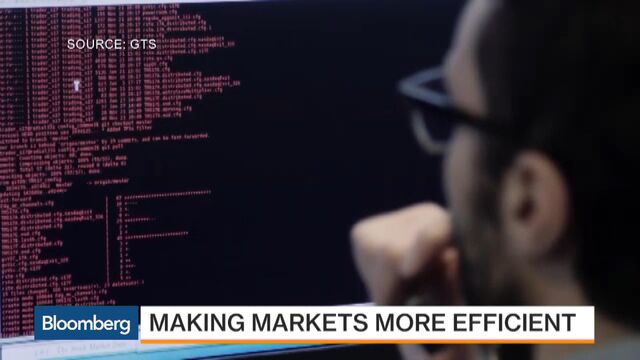 Global Trading Systems LLC agreed to purchase Barclays Plc's business at the New York Stock Exchange floor, meaning high-speed trading firms now manage buying and selling of nearly all securities there.
Financial terms of the deal, which is expected to close in the second quarter, weren't disclosed in a statement released Tuesday by GTS. The firm will now oversee trading for more than 1,200 securities at the NYSE, including Exxon Mobil Corp., Berkshire Hathaway Inc., Alibaba Group Holding Ltd. and Twitter Inc.
With Barclays's exit, there are no banks serving as market makers at the NYSE floor, completing a shift spurred by the automation of trading over the past couple decades. Barclays follows Goldman Sachs Group Inc. and Bank of America Corp., which also left in recent years. GTS is joining three other automated firms there: Virtu Financial Inc., KCG Holdings Inc. and IMC.
"You're definitely seeing highly proficient, automated traders take up those roles," said Rich Repetto, an analyst at Sandler O'Neill & Partners LP, who covers Intercontinental Exchange Inc., NYSE's parent company.
Floor trading at the NYSE is managed by so-called designated market makers, whose job is to help ensure orderly buying and selling for the stocks they handle. One of their main roles is making sure stocks start trading every day -- something that came into focus during the haywire trading session on Aug. 24.
Though GTS and its peers are largely automated, they do have a human touch: people help manage trading at the floor.
"What we think is unique and special about NYSE is there is a human responsible," Ari Rubenstein, the chief executive officer of GTS, said in a phone interview. "There's a pilot there." Most of the Barclays team -- which Rubenstein called the "classiest" on the floor -- will join GTS, according to the statement.
Rubenstein, a former commodities trader, founded GTS with David Lieberman and Amit Livnat in 2006. As markets were becoming more electronic, they wanted to invest in a technology-driven trading firm, Rubenstein said. GTS uses algorithms and computer modeling to trade stocks, exchange-traded funds, commodities, currencies, futures and other products.
There used to be dozens of specialist firms, as designated market makers were once known, at the NYSE floor. But profits from trading U.S. stocks dwindled, making it difficult to serve as market makers without automation. Although GTS, Virtu, IMC and KCG employ human traders at the floor, their businesses are driven by some of the industry's most sophisticated computer systems.
Barclays grew the business through acquisitions, purchasing LaBranche & Co.'s more than century-old division in 2010 for $25 million and buying Bear Wagner Specialists from JPMorgan Chase & Co. in 2009 for an undisclosed amount. Barclays CEO Jes Staley is in the process of slimming down the London-based bank, cutting 1,200 jobs worldwide and shuttering the investment bank's securities operations in Asia, Bloomberg News reported last week.
Banks have sold their floor operations to high-speed trading firms in recent years. IMC and Getco bought the market-making units of Goldman Sachs and Bank of America, respectively. Getco later became part of KCG.
The importance of the floor has diminished. Less than 15 percent of overall U.S. stock volume takes place at the New York Stock Exchange, though its sister market, NYSE Arca, pushes NYSE Group's total share of U.S. volume to almost 25 percent. Transactions are now spread across a total of 12 exchanges and dozens of alternative venues in the U.S.