Goldman's Daly Says China Fears Negative for Euro-Area Inflation
by
Daly sees falling oil prices hitting price expectations

Goldman sees 2Q euro-area inflation `materially negative'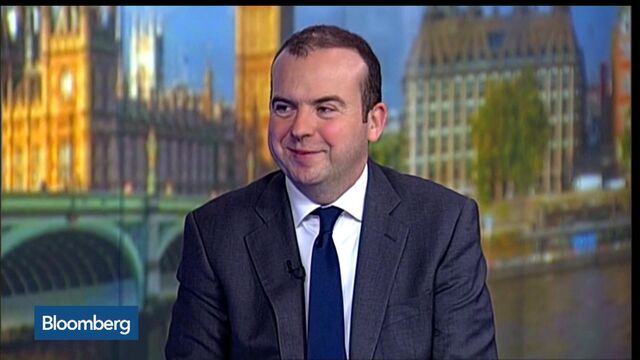 Market turmoil fueled by China and falling oil prices is having a negative effect on inflation expectations in the euro area, Goldman Sachs Group Inc. senior economist Kevin Daly said.
In comments that underline the task facing the European Central Bank as it looks to cement its credibility for delivering price stability, Daly played down the effect of the recent global rout on ECB President Mario Draghi's euro-area growth outlook. Daly pointed instead to the risk of inflation expectations becoming unmoored as a result of falling oil prices and market jitters coupled with a stronger euro and broader price pressure on commodities.
"Although recent developments have been neutral for growth, they've been
you know, significantly negative for inflation," Daly said in an interview with Bloomberg Television's Jonathan Ferro on Tuesday. "The fall in oil prices, the fall in equity prices, the rise in the euro, the developments in the broader commodities complex -- all of these are driving inflation significantly lower. It is to that that Mario Draghi is responding."
Broadly Flat
Daly expects inflation to turn "materially negative" in the second quarter and average inflation to stay broadly flat compared with the ECB's December forecast of 1 percent for 2016. The ECB targets inflation of just below 2 percent and recently reiterated that the central-bank has a duty to fulfill its mandate while pointing to downside risks emanating from commodity prices to weakness across emerging markets.
Last week, Draghi hinted more easing is in the pipeline ready to be announced as early as March.
Seeking to reiterate the Frankfurt-based central bank's commitment to hitting its inflation goal, Draghi said the ECB has the instruments as well as the "determination, and the willingness and the capacity" to fight to uphold its mandate.
Under its current quantitative easing program, designed to boost growth and inflation, the ECB buys 60 billion euros ($65 billion) a month of government and agency debt, covered bonds and asset-backed securities, intended to run until at least March 2017 or beyond.
Before it's here, it's on the Bloomberg Terminal.
LEARN MORE