Frustration in Spain as 1-in-9 Bill Orders Get Filled: Chart
by and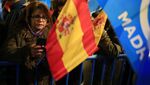 Banks fought each other for Spanish three-month bills at Tuesday's auction, seeking refuge for investors who have little stomach for volatile stock markets. They bid for 8.58 times the bills sold by the Madrid-based Treasury, matching the highest bid-to-cover ratio in an auction since June 2011. That drove the yield down to a record -- minus 0.268 percent -- as investors pay the government even more to hold their cash.
"A lot of people are putting their money into short-term paper while they wait for things to calm down," said Xavier Cebrian, a fund manager at Barcelona-based asset manager GCV Gaesco Gestion.
Before it's here, it's on the Bloomberg Terminal.
LEARN MORE