Debris Found in Thailand Isn't From Missing MH370, Malaysia Says
by and
Part assembly, wire bundle numbers don't match Boeing 777

MH370 was flying to Beijing in March 2014 when it vanished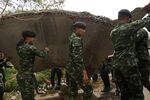 A chunk of metal found off the coast of southern Thailand over the weekend didn't come from Malaysia Airlines' Flight 370, the Malaysian government said, as a multinational search for the plane that vanished almost two years ago continues.
Serial numbers for the part assembly, wire bundle and bolts part don't match those of a Boeing Co. 777, the aircraft used on the MH370 flight, Malaysian Transport Minister Liow Tiong Lai said in an e-mailed statement Tuesday.
The part numbers also aren't listed in Malaysia Airlines' catalog manual for the aircraft, and a team of investigators has confirmed that the debris "does not belong" to MH370, Liow said. A team of officials from Malaysia's Department of Civil Aviation, transport ministry and the airline examined the recovered debris with Thai officials, he said.
Flight 370 was traveling to Beijing from Kuala Lumpur on March 8, 2014, when it disappeared with 239 people on board, most of them Chinese. Investigators concluded that someone on the plane intentionally disabled its tracking devices, and the jet turned south before plunging into the sea off Australia's western coast.
Search Zone
Investigators have scoured more than 80,000 kilometers (31,000 square miles) of seabed in the southern Indian Ocean since narrowing down the search zone in December. They expect to complete the full 120,000 square-kilometer area in the middle of the year, according to the Australian Transport Safety Bureau.
The plane's disappearance has baffled investigators, who have failed to uncover any clear clues as to where the aircraft took its fatal plunge or why it strayed so far from the intended Kuala Lumpur-to-Beijing route.
The only solid evidence so far from the missing Boeing aircraft is a wing component that washed up in July on France's Reunion Island, some 3,800 kilometers from the search zone.
Before it's here, it's on the Bloomberg Terminal.
LEARN MORE