De Beers Sells $540 Million of Diamonds, Twice Last Sale's Level
By
Unveiling of `big auction' shows better transparency: Investec

Prices slumped to six-year lows last year on weak China demand
De Beers sold $540 million of diamonds in its first sale of the year, more than double the amount at the biggest producer's previous offering.
Polished diamond prices have firmed after output cuts and a "positive" holiday season in the U.S., the unit of London-based Anglo American Plc said in a statement on Tuesday. The sale compares with the $248 million reaped in 2015's final offering, De Beers said.

Prices are at six-year lows after slumping 18 percent in 2015, the most since the 2008 global financial crisis, according to data from WWW International Diamond Consultants. Demand in China, the biggest market after the U.S., has shrunk along with a slowing economy and crackdown on corruption that's discouraged open displays of wealth. A credit crunch in the diamond industry also reduced available funds to purchase diamonds.
De Beers and Russia's Alrosa PJSC have reacted to slowing demand by cutting supply. De Beers, which didn't previously reveal the value of its auctions, lowered its output target three times last year. It cut prices as much as 7 percent at the 2016 sale, people familiar with the process said last week. The company didn't provide prices in its statement today.
"This is a relatively good start for the year," Investec Plc said in a note. "This is a big auction and signals greater transparency."
Anglo shares jumped as much as 7.5 percent and were 5.3 percent higher at 238.55 pence by 10:25 a.m. in London, the best performance on the FTSE 100 Index of leading stocks.
Petra Diamonds Ltd., a company that mines the stones in southern Africa, said on Monday that prices have probably bottomed after the supply cuts by De Beers and Alrosa last year and there's an opportunity for them to rise over the next 6 to 12 months.
Watch Next: Two Billion-Year-Old Diamond Found in Canada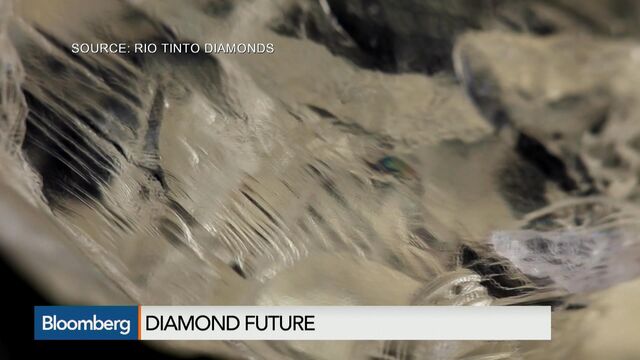 Before it's here, it's on the Bloomberg Terminal.
LEARN MORE