Credit Suisse Says We Haven't Seen the Bottom in Oil Yet, Slashes Price Forecasts
Demand could come into focus.
by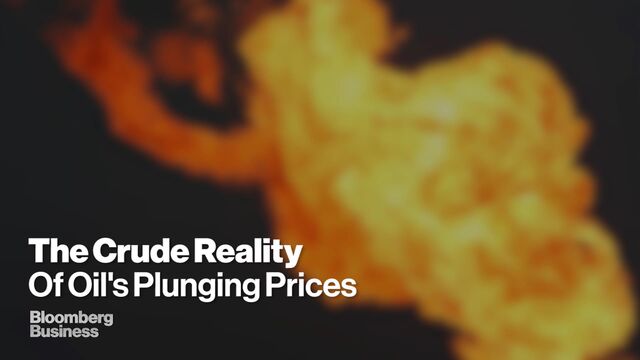 Credit Suisse took a hatchet to its oil price forecasts as persistently low levels of crude force more optimistic analysts to revisit their assumptions.
Global Energy Economist Jan Stuart reduced his call for Brent and West Texas Intermediate in the first quarter of 2016 to $29.25 and $30 from $51.25 and $47.50, respectively, saying "the bottom is not yet in."
Those first-quarter forecasts are even lower than what the futures market is pricing in and are 20 percent or more below the consensus estimates, according to forecasts compiled by Bloomberg.
"Oil prices have collapsed early this year amidst rising recession fears and 'panic' levels of risk-appetite," he wrote. "Until inventories actually begin to draw there is no fundamental support for spot prices; meaning that the same macro-headwinds that helped crash prices in the last four weeks can again depress oil until, in our view, inventories begin to draw."
In a note to clients on Sunday, analysts at HSBC also cut their estimates for crude oil over the next three years, citing the prolonged supply glut.
Credit Suisse projects Brent will average $36.25 this year and  $54.25 in 2017, with West Texas Intermediate trading at a premium of $1.50 to Brent in 2016 and averaging the same level as the global benchmark grade in 2017.
Though Stuart expects curtailed production outside of OPEC to turn the crude market from surplus to deficit around the middle of 2016, he acknowledges downside risks to his outlook—particularly on the demand side of the ledger, if emerging market weakness spreads to advanced economies.
"Even though global oil demand growth of [circa] 1.7 percent last year hinged first and foremost on the ongoing recovery in developed economies, if the current panic persists, the developed market recovery too may be affected," he wrote.
For Brent, Stuart noted that the degree of contango—that is, the steepness of the futures curve for oil—for the one- to six-months futures contracts has remained relatively stable since oil began to slide in earnest in November after trading sideways for two months.
As such, the attractiveness of the storage trade, which consists of buying spot oil, storing it, and selling a contract to deliver it at a higher price in the future, has not markedly increased during this downdraft—traders aren't so worried about the prospect of having to utilize floating storage en masse to deal with a world awash in crude—yet. The back end of the curve has been hit just as hard as the near-term futures contracts, Stuart says, "suggesting it is about sentiment as well."
In the event of a global recession and supply growth from OPEC, which is Credit Suisse's bearish scenario, a continuation of the U.S. shale revolution will only be delayed, not derailed, according to the analyst.

"Even in the bear scenario, we believe prices will converge back to the $60 per barrel levels required to grow American shale in the next few years," wrote Stuart. "By 2018 the 'Call on the U.S.' rises by nearly one million barrels per day in this case.
The relatively short period it takes to ramp up shale production relative to other kinds of tight oil entails that it will be called upon to alleviate any shortages of supply that may materialize in the near future. As such, the U.S.' production gain will be at the expense of other non-OPEC locales where it is particularly costly to extract oil, such as offshore or oil sands projects.
Before it's here, it's on the Bloomberg Terminal.
LEARN MORE