Five Things Everyone Will Be Talking About Today
There's a lot going on, get caught up here.
by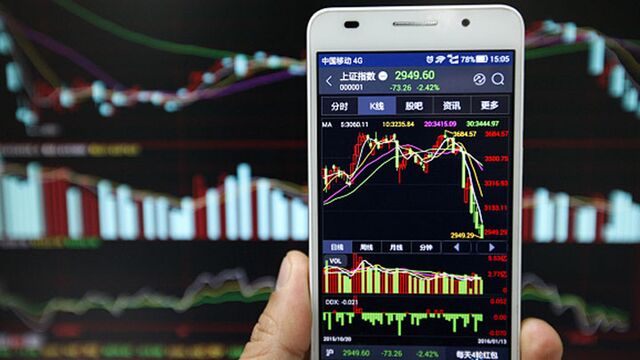 Chinese stocks get slammed, safe havens rally, and Apple is due to report earnings. Here are some of the things people in markets are talking about today.
China stocks slammed
The Shanghai Composite Index plunged 6.4 percent to 2,749.79 at the close. Huang Weimin, a hedge fund manager whose Chinese stock-index futures wagers returned more than 6,200 percent last year, has warned investors should sell their shares now, before it's too late. To add to China's woes, discrepancies between its reported exports to Hong Kong and the shipments registered by the territory widened in December. China recorded $1.94 of exports for every $1 of imports Hong Kong registered from the mainland, suggesting currency-market swings may have spurred a fresh round of fake trade invoicing.
Haven bid
German sovereign debt yields hit fresh all time lows this morning with two-, three- and five-year notes all gaining. Rising sovereign debt prices in the U.K. have increased worries of a debt auction not being covered with Robert Stheeman, chief executive officer of Britain's Debt Management Office, saying that he can't rule out an uncovered auction happening "at some point." Last week's auction of gilts due in 2021 had a bid-to-cover ratio of only 1.07, the lowest since a 2009 sale of 40-year securities. Gold rose to a two-month high.
Oil fluctuates
Oil prices continue to be volatile. After falling as low as $29.28 a barrel in early trading, West Texas Intermediate was at $30.27, down 0.2 percent at 11:10 a.m. London time. Bets on oil falling below $25 a barrel have risen to a record.
Fed decision day guide
Markets are losing faith in more rate increases from the Fed, with implied probabilities suggesting a 30 percent chance of no more hikes at all this year. It is certainly safe to say that the economic landscape has changed and the Fed needs to recognise this tomorrow, without taking a March rate rise completely off the table. Timothy Duy, professor of practice and senior director of the Oregon Economic Forum at the University of Oregon, says that choppy markets could put the central bank in "risk management" mode.
Apple earnings
Apple Inc. is due to report earnings after the bell today. With shares down 11 percent since the company's last report in October, analysts will be watching closely for the key iPhone sales number. The earnings will also be monitored by the hundreds of suppliers around the globe whose fortunes are closely tied with the company. 
What we've been reading
This is what's caught our eye over the last 24 hours.
Want to receive this post, and more, into your inbox every morning? Sign up here 
Before it's here, it's on the Bloomberg Terminal.
LEARN MORE