China's Regional Pay Gap Is Holding Back Growth, HSBC Says
Bloomberg News
Poorer provinces growing quickly can keep expansion above 6%

Stalled hukou reforms may lead to a 1990s Japan-like slump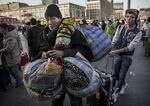 Ending a household registration system that restricts worker mobility can help keep China's economy humming by boosting incomes and growth in poorer regions. Keeping it risks expansion tumbling well below an average of 6 percent for the next 15 years or, even worse, a 1990s Japan-like slump.
So says Stephen King, senior economic adviser to HSBC Holdings Plc in London, in a Jan. 26 note, which argues curbs on labor movement "placed huge restrictions on economic opportunity for those in poorer regions." Removing them can help China's poorer provincial economies expand at a faster pace, boosting overall national growth in future.
"Some have concluded that the game is now up for the Middle Kingdom," said King. "The possibility of continued catch-up in the poorer areas implies that, for China as a whole, the pace of economic expansion could remain relatively robust."
By ensuring that poorer provinces such as Guizhou in the south west and Gansu in the north west expand at rates exceeding about 8 percent over the next 15 years, the nation can expand at 6 percent to 2030 even as wealthier places including Beijing, Tianjin and Shanghai slip below 4 percent expansion, King says.
Catch-Up Potential
China's catch-up potential is underscored by the extent of income inequality in the nation. The richest Chinese region enjoys living standards that are four times greater than the poorest, says King. In the U.S., by comparison, the richest state is less than two times richer than the poorest and in the Eurozone the richest country is three times richer than the poorest, King said.
Ending the household registration system known as hukou would "transform the labor market," slowing wealthier regions' wage growth but helping the nation overall by utilizing the workforce more efficiently, King says.
China has vowed to deepen and speed up reform of the household registration, or "hukou," system. Introduced in the 1950s, a hukou provides access to services and social welfare based on a person's residential status, leaving many migrant workers and their families who have flocked to China's coastal regions in the past three decades without the rights of those born in the cities. Among other failings, the system is a key reason behind high precautionary savings levels which act as a brake on consumption.
Hukou reform could stall if growth slows because of earlier excessive investment and financial sector strains with potential productivity gains failing to materialize, King says. Growth then would average well below 6 percent over the next 15 years, he said.
Pessimistic Scenario
Under King's most pessimistic scenario, an economic collapse in the nation's wealthier regions would trigger a financial crunch leading to the cancellation of infrastructure investment projects that had promised a lifeline for poorer provinces.
Under that scenario "China enters a sustained period of much lower growth, similar to the disappointments Japan suffered in the 1990s and beyond," he said.
That pessimistic scenario is the "least plausible" and King says policy makers will want to avoid a stalling of hukou reform.
"The risks of political and social instability would be higher under this scenario simply because the gap between rich and poor would be 'hard-wired' into the Chinese economy," he said.
Silk Road
Also important to ultimate success for China is President Xi Jinping's plan to revive Chinese commercial ties along the ancient Silk Road in south and central Asia, which will boost opportunities for some of China's poorest provinces, says King.
That adds a new layer of future uncertainty with China looking to build commercial ties with countries in regions "not best known for their predictable political arrangements," King says.
"The optimistic scenario is certainly possible but – unlike China's earlier stages of development – its achievement will depend increasingly on China's international statecraft and the behavior of states over which it has no control," said King. "It will not be easy."