Carney Under Pressure to Clarify His Future at Bank of England
by
Governor says decision on BOE term would be needed this year

There's `a lot more to be done' at the U.K. central bank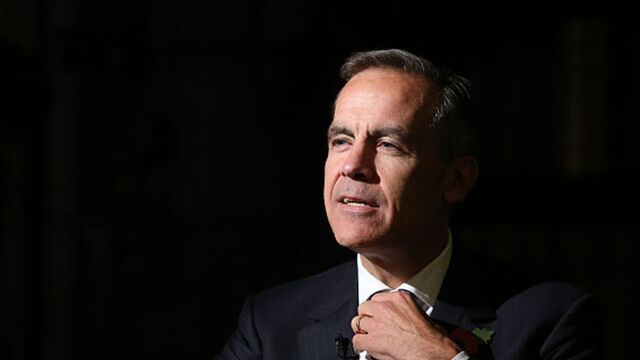 Mark Carney must clarify his future at the Bank of England as soon as possible after hinting he may stay longer than initially indicated as governor, according to the chairman of a top panel of lawmakers.
In testimony to the U.K. Parliament's Treasury Committee on Tuesday, Carney said it's a "tremendous honor" to have his current job and he must decide this year if he wants to serve more than five years. It was the most explicit hint so far from the Canadian that he might remain for the full eight-year term permitted by legislation.
Responding after the hearing, Andrew Tyrie, who leads the committee, said it was right that Carney should give more detail on his thinking. "The sooner he lets Parliament, the markets and the public know, the better," Tyrie said in an e-mailed statement.
Carney was named to the role in late 2012 by Chancellor of the Exchequer George Osborne. He succeeded Mervyn King at the London-based institution in July 2013, meaning he reached the half-way point of the five years he said he will serve at the end of 2015. The mystery surrounding his future has echoes of the buildup to his appointment, when he denied he had any interest in the BOE job and ruled out the possibility he would move from the Bank of Canada, where he was governor.
"We're making progress but there's a lot more to be done," the governor said at the hearing of the committee, which scrutinizes the BOE. "I would have to make a determination by the end of the year if I were to request to stay further."
Carney's decision on his future is just one question for 2016. There's also the matter of when to increase benchmark borrowing costs from a record-low 0.5 percent, where they've been since 2009. He reiterated on Tuesday that the conditions necessary for the Monetary Policy Committee to begin tightening policy were not yet met.
"In my opinion we will have to see the renewal of growth above trend, we'll have to see unit labor costs pick up, and we'll have to see a continued firming of core inflation," he told lawmakers.
With oil prices damping inflation, economists have pushed back forecasts for a rate increase to the second half of 2016, with some, including Royal Bank of Scotland and BNP Paribas, not seeing a move until next year.
"A first hike in November depends on a steady recovery continuing, and clearly there are downside risks that could knock things off track," said Dan Hanson and Jamie Murray, economists at Bloomberg Intelligence. "It now seems the majority of the MPC will need to see the white of inflation's eyes before acting on rates."
Before it's here, it's on the Bloomberg Terminal.
LEARN MORE